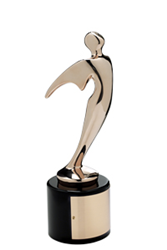 If it weren't for the heartfelt testimony of the people I interviewed, this video would never have been possible.
Stamford, CT (PRWEB) June 20, 2014
The Telly Awards has named Mary Shanahan as a Bronze Winner in the 35th annual Telly Awards for her video, "The Faces of Lyme." Shanahan's work was selected as one of the few winners out of nearly 12,000 entries from all 50 states and numerous countries.
The six-minute video in which Lyme disease patients describe the multitude of symptoms they experience, along with the diagnostic and treatment challenges they face, was done in collaboration with Lyme Research Alliance (LRA) and shown at the non-profit's "Time for Lyme" Gala in April.
The Telly Awards was founded in 1979 and is the premier award honoring outstanding local, regional, and cable television commercials and programs, the finest video and film productions, and online commercials, video and films. Winners include those representing the best work of the most respected advertising agencies, production companies, television stations, cable operators, and corporate video departments in the world.
A prestigious panel of accomplished industry professionals, each a past winner of a Silver Telly, judged the competition. "The Telly Awards has a mission to honor the very best in film and video," said Linda Day, executive director of the Telly Awards. "Mary Shanahan's video illustrates her creativity, skill and dedication to her craft and serves as a testament to great film and video production."
Shanahan, an Emmy Award-winning producer/director, said she was honored to receive the award, but noted the video was "the result of a truly collaborative effort" between Lyme Research Alliance, the interviewees who gave their time, and herself. "I have to acknowledge that if it weren't for the heartfelt testimony of the people I interviewed, this would never have been possible," the Stamford resident said.
Documentary filmmaker Shanahan, affiliated with Connecticut Public Television (CPTV), added: "Many thousands of people are suffering from this disease and I was very happy to play a tiny role in bringing the complications associated with treatment and diagnosis to light."
LRA's Co-President Debbie Siciliano praised Shanahan's work, saying the filmmaker had "captured the important messages the Lyme community and LRA needed to get out—and did it with tremendous sensitivity and accuracy."
To watch the video, click here.
___________________________________________________________________________________
Lyme Research Alliance, formerly Time for Lyme, is a Connecticut-based, national non-profit that funds cutting-edge research into Lyme and other tick-borne diseases. For more information go to http://www.LymeResearchAlliance.org.