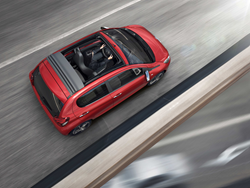 (PRWEB UK) 23 June 2014
Peugeot will bring three of its latest production models to The Moving Motor Show at the Goodwood Festival of Speed 2014. The event will give motoring enthusiasts and prospective car buyers a chance to get to test drive Peugeot's cars round the grounds of the illustrious Goodwood Estate.
On Thursday 26th June, Goodwood Festival of Speed visitors will be able to experience the 108 TOP! Cabrio for the first time, as it makes its UK debut at the festival. They will also be able to drive the New RCZ R sports coupe, Peugeot's most powerful production car yet, and the newly crowned 2014 European Car of the Year, the New Peugeot 308.
The New 108 TOP! Cabrio is set to launch in the UK market on 1st July 2014. It takes the elegant city car style, practical technological innovations and efficient driving experience offered by the 108 hatchback, and adds a retractable fabric roof.
Goodwood Festival attendees will be able to get a first-hand experience of its intelligent engine and impressive handling, putting its 4.8m turning radius to the test round the circuit's bends.
Visitors will also be able to experience the power and precision delivered by the New RCZ R's 1.6 THP turbocharged petrol engine. Developed with Peugeot Sport, the New RCZ R is capable of going from 0-62mph in just 5.9 seconds. Its increased power, torque and acceleration will provide drivers with the perfect opportunity to take on the famous Goodwood Hillclimb.
The 2014 European Car of the Year, the New Peugeot 308 will also be present at the event. Fitted with Peugeot's new PureTech 1.2-litre Turbo e-THP 130 petrol engine, the 308 hatchback strikes a balance between power and economy.
It also makes use of Peugeot's latest technical and design innovations, including electric power steering, e-HDi Stop and Start and an efficient modular platform.
To find out more about Peugeot's stand at the Goodwood Festival of Speed 2014, visit: http://www.peugeot.co.uk/goodwood-festival-of-speed/
ENDS
Notes to editors
Press contact
To request additional information, please contact public relations manager Kevin Jones on:
E: kevin(dot)jones(at)peugeot(dot)com
T: +44 (0)2476 884215
About Peugeot
Peugeot has manufactured production cars, commercial vehicles and technical automotive innovations since 1882. Its current range of production cars includes the 308 – recently named 2014 European Car of the Year – the RCZ R and the 2008.
About the Goodwood Festival of Speed
Held annually on the grounds of Goodwood House, West Sussex, the Goodwood Festival of Speed is a motoring show that celebrates the best of automotive technology and design, past and present. It brings together a diverse audience of manufacturers, car enthusiasts and legends from the world of motor sport each year.