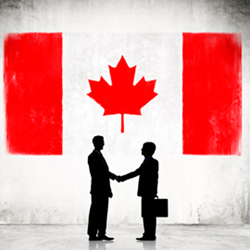 A number of businesses are investigating additional terminals and/or upgrading their existing technology.
Toronto, Ontario, Canada (PRWEB) June 20, 2014
Great news! Flowers aren't the only thing in full-bloom across Canada. Signs indicate that opinions of the economy are flourishing as well. According to a report by the Financial Post, the Canadian Federation of Independent Businesses says its Business Barometer index rose for a second straight month to a reading of 67.1 in May.
Such a high score (anything above 50) implies that small business owners who expect stronger economic performance in the coming year and is a good indication of a growing economy.
This optimism has led a number of businesses investigating additional terminals and/or upgrading their existing technology in preparation for the increased sales. Keeping your payment processing terminals up-to-date can also speed up the checkout process resulting in shorter lines, shorter wait times - and overall happier customers.
"The checkout process is the last opportunity you have to impress a customer," commented Vicky Martins, Marketing Manager at MONEXgroup. "Our credit card processing solutions offer speed and convenience with state-of-the-art security - protecting both the customer and the business from fraudulent activity and also contributing to the wow-factor."
Although there are many terminals to choose from, one excellent choice for fast and secure credit processing is MONEXgroup's iWL220 Bluetooth Short Range Wireless device. This terminal can reduce lengthy line ups by accepting payments anywhere inside or within close proximity to your location with the bonus convenience of the ability to print receipts on the spot. Additionally, the iWL220 is great for companies interested in a full day of processing without having to recharge the machine!
MONEXgroup is the number one payment processing provider in Canada offering the best service and the lowest rates in the industry. Our services include: debit card and credit card point-of-sale (pos) terminals, mobile, integrated and e-commerce online payment products. MONEXgroup serves over 25,000 merchant accounts across Canada in all market segments including: restaurants, business-to-business, professional services, leisure and hospitality.
Holly Murray
MONEXgroup
Marketing Communications
HMurray(at)MONEXgroup(dot)com
T: 647 204 0197
http://www.monexgroup.com