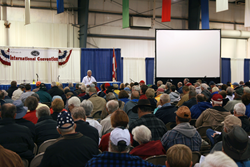 Cincinnati, Ohio (PRWEB) June 20, 2014
FMCA's 90th Family Reunion & Motorhome Showcase will take place at the Deschutes County Fair & Expo Center in Redmond, Oregon. Approximately 2,000 motorhomes and some 6,000 people are expected to come together for this fun-filled event, which has been dubbed "High Desert Sunrise" in honor of the host area.
The association hosts Family Reunion & Motorhome Showcase events twice a year in varying locations with the purpose of celebrating the motorhome lifestyle. The group is making its fifth visit to Redmond, having met in the city in 2001, 2004, 2007, and 2010 also.
Activities in Redmond include a motorhome exhibition that brings together major motorhome manufacturers and dealers from throughout the United States and Canada, as well as manufacturers and distributors of a multitude of RV accessories and components, and suppliers of various services related to RVs.
For those considering the purchase of a motorhome, the event provides an opportunity to view an assortment of makes and models all in one location. A variety of 2014 models, in many different sizes and price ranges, will be on display, and some manufacturers will have 2015 models ready as well.
In addition to the motorhome show, highlights include seminars on a variety of topics related to motorhomes and RV travel, tours involving local sites and scenes, evening entertainment, and numerous social activities.
While the convention is organized for Family Motor Coach Association members, the organization also invites members of the public to attend and provides various admission options.
For those who want to view only the motorhome exhibition, admission costs $7 per day; children 12 and under are admitted free with an accompanying adult, as are those with an active military ID.
Those who would prefer to take in the RV exhibits and also attend seminars and entertainment may purchase a Daily Passport, which is available for $65 per person ($55 for FMCA members).
RV owners are invited to take part in all of the activities and also to bring their RV and stay with the rest of the group at the Expo Center. The price for non-FMCA members is $215 prior to June 23, 2014, and $245 after that date; this non-member fee automatically grants a one-year FMCA membership or Family Motor Coaching subscription to the RV owner.
The FMCA member price is $165 for early-bird registrations and $195 after June 23.
The association welcomes all motorhome owners as members. Dues are $50 for the first year, and $40 per year thereafter. Those who do not yet own a motorhome but are interested in learning more may sign up for a subscription to Family Motor Coaching magazine for $30 per year.
About Family Motor Coach Association
Family Motor Coach Association is owned by its membership, governed by elected officers, and has a paid staff of employees at its national headquarters in Cincinnati, Ohio. FMCA was founded in 1963 by a contingent of "house car" owners who decided to term their then-unusual vehicles "motor coaches." Today the association has nearly 80,000 member families.
FMCA's purpose is to organize social activities, exchange valuable motorhome information, and supply benefits to enhance the motorhome lifestyle.
One of the primary benefits of FMCA membership is a subscription to Family Motor Coaching magazine, the official publication of FMCA. The monthly magazine publishes association news; travel articles of particular interest to motorhome owners; technical articles concerning motorhome mechanics, maintenance, and the latest RV products and accessories; and display and classified advertising.
Other FMCA member benefits include trip routing; full access to FMCA.com; a tire purchasing program; and group rates on motorhome insurance, a medical evacuation and travel assistance program, and RV caravans and tours.
Perhaps the most important benefit of FMCA membership is the camaraderie and friendships that develop among people enjoying the common interest of motorhome travel and recreation.
For more information, visit FMCA.com or call the FMCA national office at (800) 543-3622 or (513) 474-3622.