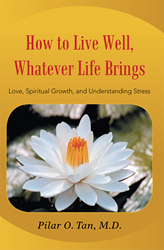 'I have learned many life lessons in overcoming the most painful loss in my life,' Tan said. 'My goal is to share these lessons and make a difference in people's lives worldwide.'
Elizabeth, N.J. (PRWEB) June 24, 2014
Sometimes, the best advice we can give ourselves is the same advice we give others.
Following the tragic loss of her son, nationally board-certified internist Pilar Tan drew upon 40 years of helping patients heal to find her own healing. She found solace in Freud's five "Mature Ego Defenses," which she consciously applied to her own life and found relief from her mental pain.
To share her success with others, Tan has compiled a comprehensive self-help guide, "How to Live Well, Whatever Life Brings." This guide demonstrates how to develop coping skills and manage stress in a productive way using the five mature ego defenses.
"I wrote this book as a tribute to my beloved son," Tan said. "I want to help people by sharing what I have learned in my process of healing."
Based on the mind-body connection, "How to Live Well, Whatever Life Brings" teaches readers to respond to disasters maturely and constructively, regardless of stress and personal pain. Guidelines within outline the importance of love, spiritual growth, and understanding stress.
In her new book, Tan shares her medical expertise based on several decades in private practice while weaving poetic verses, biblical excerpts, and inspirational quotes to complement each topic.
As a tribute to her son, proceeds from book sales will go to the humanitarian causes he had always dreamt of supporting.
"I have learned many life lessons in overcoming the most painful loss in my life," Tan said. "My goal is to share these lessons and make a difference in people's lives worldwide."
"How to Live Well, Whatever Life Brings: Love, Spiritual Growth, and Understanding Stress"
by Pilar Tan
Hardcover, $37.95
Paperback, $19.99
e-Book, $3.99
ISBN: 978-1-45259-408-8
Available at amazon.com, barnesandnoble.com, and bookstore.balboapress.com.
About the author:
Pilar O. Tan, MD, is a board-certified internist who has managed a practice for 40 years in Elizabeth, N.J. Born in the Philippines, Tan entered the United States as a medical intern at age 24. During her impressive medical career, she has mentored medical students from the University of Medicine and Dentistry of New Jersey and received the Humanitarian Award from the Trinitas Hospital Foundation local to her. She raised two spiritual children.
# # #
Editors: For review copies or interview requests, contact:
Andrea Hawman
ahawman(at)bohlsengroup(dot)com | 317.602.7137
(When requesting a review copy, please provide a street address.)