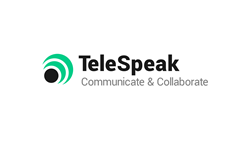 Communicate & Collaborate
Orlando, Florida (PRWEB) June 22, 2014
TeleSpeak a developer of cloud based communications and collaboration solutions is proud to announce that Doug Cahhal will be joining the organization as Vice President of Strategic Partnerships. Doug brings 20+ years professional experience developing and managing sales and channel infrastructures in advanced communications companies. Doug's' areas of expertise include optimization of resources for maximum sales and revenue growth as well as market penetration and expansion. Doug recently left Oaysis where he was in involved in National Sales, due to a company acquisition.
"Business, particularly in the telecommunications and software arena, is organic," Cahhal said. "To move a company forward and really charge its growth, you have to look at every aspect from top to bottom and tune it accordingly. That's what TeleSpeak has done over the last year, and they have been steadily reaping the benefits. What I hope to contribute is a track record of proven innovation in the sales process to match the company's innovation in technology."
Chance Myers TeleSpeak's Chief Sales and Marketing Officer is enthusiastic about Doug joining the organization. "Doug Cahhal is exactly the kind of dynamic, top-to-bottom innovator TeleSpeak wants as we continue our growth and expansion. His past successes have given him a unique insight into channel sales operations and how each department, from product development to marketing and sales to order fulfillment and customer support before and after the sale, impacts business and the bottom line. We look forward to benefiting from his experience and expertise. "In the past two years," Myers added, "we have experienced impressive growth in our revenues and market share. With the addition of Doug Cahhal to our team, we expect to see that increase even more dramatically."
Cahhal will work closely with all departments of the TeleSpeak team, but his primary efforts will concentrate on the development of the company's Channel and re-sell division to help enhance opportunities across the TeleSpeak's reseller network.