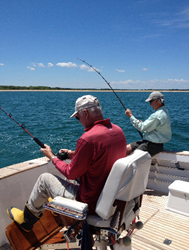 "The weather was perfect, the fishing and golf were outstanding, and we helped raise a lot of money for sick children. We are very proud to be part of the Genesis Foundation for Children." - Chris Havlicek
Martha's Vineyard, MA (PRWEB) June 20, 2014
The 33rd annual John Havlicek Celebrity Fishing Tournament was held June 5 – 8, 2014 in Martha's Vineyard, Massachusetts to benefit the Genesis Foundation for Children, which supports children who have physical, intellectual and genetic disorders. The weekend included fishing and golf tournaments along with a live auction, comedy shows, and fine dining. Over the last 33 years, the event has raised millions of dollars for the foundation. The charity event was hosted by the Genesis Foundation's board of directors, which includes Boston Celtics icon John Havlicek, his wife Beth, and his son, Chris Havlicek.
Guests included retired MLB players Jim Lonborg, Carlton Fisk and Jerry Moses. Celtics head coach Brad Stevens and former NBA player and coach Chris Ford attended the event along with former NHL player Jay Miller. TV personalities Barry Nolan and Susan Wornick and actor Jim Sikking also supported the charity along with comedians Don Gavin, Scott Record and Patty Ross and writer Dick Flavin.
Boston sports legends John Havlicek and Jim Lonborg fished aboard the "Keep on Truckin'" and netted 48 bluefish off the coast of Chappaquiddick Island, Massachusetts. Their boat won the awards for the largest bluefish, the smallest bluefish, and the most fish released. John Havlicek's son, Chris Havlicek, said "the weather was perfect, the fishing and golf were outstanding, and we helped raise a lot of money for sick children. We are very proud to be part of the Genesis Foundation for Children and hope to continue the great success of this tournament for many years to come."
Since 1981, John Havlicek and his family have hosted the fishing tournament along with the Genesis Foundation's board of directors. "The Genesis Foundation for Children continues to help so many families in so many ways," said John Havlicek, NBA legend. As a former Boston Celtic with children and grandchildren of his own, the New England-based organization is very important to John Havlicek. "My family and I are so proud to be affiliated with this great organization," he said.
His son, Chris Havlicek, is a longtime board member and part of the finance committee. Fundraising is essential to the Genesis Foundation to ensure it can support and care for children born with disabilities. He and the other committee members assist in the development of fundraising relationships, which are critical to the non-profit's success.
The Genesis Foundation for Children is a non-profit organization based in New England. Its goal is to raise money for children born with birth defects and genetic abnormalities. The organization accomplishes this goal through individual donations, corporate sponsorships and special events, like the John Havlicek Celebrity Fishing Tournament.
For more information, please contact Ryan Vigue at rvigue(at)thegenesisfund(dot)org or 781-890-4282.