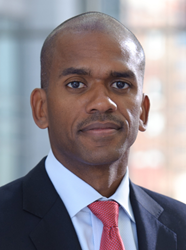 "It is an honor to be recognized among my peers."
Washington, DC (PRWEB) June 20, 2014
BizBash, the leading trade media for event professionals, has announced its 2014 list of the most innovative people and brands within the event industry and Greg O'Dell, president and chief executive officer of Events DC, the District's official convention and sports authority as one of the top innovators right now. O'Dell has stood out as an event innovator and groundbreaker—joining an elite group that proves the value of face-to-face events, empowers peers to consider the unconventional, and reveals a redefined image of what the industry is today.
As president and CEO, O'Dell oversees Events DC's three lines of business: Conventions and Meetings, Sports and Entertainment, and Special Events. His primary responsibilities include oversight of the development and promotion of hospitality, athletic, entertainment and cultural activities that generate economic and community benefits for the residents and businesses of District of Columbia.
"The event landscape is ever changing but we have found great strength in leveraging our strategic partnerships to create unique event experiences that engage our local community, visitors and attendees throughout our venues -- and that lends to our continued success," said O'Dell. "It is an honor to be recognized among my peers."
"We may be living in a digital age, but live experiences remain one of the most powerful ways to reach and influence an audience. Our Innovation issue is about the event and meeting industry professionals proving how sophisticated and strategic the medium is, whether it's a 150,000-person conference, a public fan fest that attracts 1.5 million visitors, or a 400-guest wedding," says BizBash editor in chief Anna Sekula. "O'Dell was willing to take risks and find opportunities to create authentic engagement and value, which is why we decided to highlight them and their work."
The article, "Most Innovative People in Events and Meetings" is featured in the BizBash summer issue, the Innovation issue. The full list of innovative people and brands can also be found at http://www.bizbash.com/innovators-2014.
BizBash celebrates the Innovation issue June 19 at BizBash Live: The Expo at the Los Angeles Convention Center. For additional information, visit http://www.bizbash.com/expola.
For more information
Anna Sekula, editor in chief of BizBash, is available for additional comments. For additional information, contact Grazia Mohren at gmohren(at)bizbash(dot)com, 646.839.6896.
About Events DC
Events DC, the official convention and sports authority for the District of Columbia, delivers premier event services and flexible venues across the nation's capital. Leveraging the power of a world-class destination and creating amazing attendee experiences, Events DC generates economic and community benefits through the attraction and promotion of business, athletic, entertainment and cultural activities. Events DC oversees the Walter E. Washington Convention Center, an anchor of the District's hospitality and tourism economy that generates over $400 million annually in total economic impact, and the historic Carnegie Library at Mt. Vernon Square. Events DC manages the Stadium-Armory campus, which includes Robert F. Kennedy Memorial Stadium and surrounding Festival Grounds, the non-military functions of the DC Armory and Maloof Skate Park at RFK Stadium. Events DC also built and now serves as landlord for Nationals Park, the first LEED-certified major professional sports stadium in the United States. For more information, please visit http://www.eventsdc.com.
About BizBash
BizBash is an innovator and resource hub for the event and meeting industry with its website, live events, and magazines. Event organizers responsible for events such as White House state dinners and the Oscars, as well as conferences, trade shows, fund-raisers, and more, use BizBash products regularly for ideas and best practices that can be implemented at their own events. Visit us at http://www.bizbash.com, and follow us at @BizBash and http://www.facebook.com/bizbash.