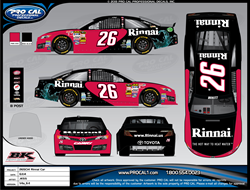 Peachtree City, GA (PRWEB) June 20, 2014
Rinnai, manufacturer of North America's number-one selling brand of tankless water heaters and a complete lineup of home heating products, is pleased to announce a partnership with BK Racing and NASCAR driver Cole Whitt. Beginning with the upcoming NASCAR Sprint Cup Series race at Sonoma Raceway on June 22, Whitt will race the No. 26 Rinnai car in select races during the 2014 season.
"We are thrilled to be partnering with BK racing and talented driver Cole Whitt," said Susan Mittelbrun, Rinnai Vice President of Marketing. "Rinnai is continuously investing in creative ways to connect with our customers, and we are excited about our partnership with BK Racing as it is a valuable way to engage with both our trade and consumer audiences."
Cole, 22, is considered one of the bright up-and-coming stars of NASCAR and will compete for the 2014 NASCAR Sprint Cup Series Rookie of the Year honors. In addition to competing against the best drivers in the world on the track, Cole, an animal advocate, supports an animal rescue facility called Lions Tigers & Bears.
His NASCAR career includes four years on the circuit and 102 races in which Cole has competed in each vitally important building block series such as the NASCAR K&N Pro Series; NASCAR Camping World Truck Series; NASCAR Nationwide Series and the NASCAR Sprint Cup Series.
"We are very proud to showcase the Rinnai brand at Sonoma Raceway and other select races this season," said Anthony Marlowe Co-Owner of BK Racing. "The innovative design behind Rinnai Tankless Water Heaters provides hot water only when you need it, which is unbelievably efficient and can save on your energy bill. What's more impressive, you get an unlimited supply of hot water. ​We are optimistic that Cole Whitt's road course prowess will enable us to grow our sponsorship with the #1 selling brand of tankless water heaters in North America."
For more information about Rinnai's product offering please visit rinnai.us, facebook.com/rinnaiamerica or twitter.com/Rinnai.
Fans can visit BKRacing.com, twitter.com/bkracing_2383 or facebook.com/bkracing2383 for the latest news and updates about Cole Whitt and the No. 26 Rinnai Tankless Water Heaters Toyota Camry team.
About Rinnai
Rinnai America Corporation, a subsidiary of Rinnai Corporation in Nagoya, Japan, was established in 1974 and is headquartered in Peachtree City, Ga. Rinnai Corporation manufactures gas appliances including tankless water heaters, a wide range of kitchen appliances and heating and air conditioning units. As the technology leader in its industry, Rinnai is the largest gas appliance manufacturer in Japan and is the No. 1 selling brand of tankless gas water heaters in North America. Annual corporate revenues, including those of its subsidiaries, are in excess of $2.5 billion. With a global perspective to create 21st century products for the home and business, Rinnai Corporation commits itself to safety and the pursuit of comfortable lifestyles. For more information about Rinnai's entire product line, visit http://www.rinnai.us.
About BK Racing
BK Racing is a NASCAR Sprint Cup Series team headquartered in Statesville, N.C. Founded in 2012, BK Racing's staff of 60+ employees' works to field the No. 23, 26 and 83 entries of Alex Bowman, Cole Whitt and Ryan Truex. BK Racing's combined annual revenues of its sponsorship base exceed $100 billion. 2014 will mark BK Racing's 3rd consecutive full-time season in the NASCAR Sprint Cup Series. The team's roster of sponsor partners includes: Rinnai, Burger King, Borla Exhaust, Dr Pepper / Snapple Group, Colgate-Palmolive, Lipman Produce, VooDoo BBQ & Grill, Horizon Distributors, MobileBits, Element Financial Corporation and Toyota Motor Company.