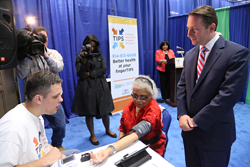 WHITE PLAINS, N.Y. (PRWEB) June 23, 2014
County Executive Robert P. Astorino today announced that Westchester's TIPS program – or Telehealth Intervention Programs for Seniors – will make its national debut at the "Successful Aging – It's Everybody's Business" conference June 26-27 in Tarrytown, N.Y. Speaker Ken Dychtwald, one of the nation's foremost visionaries on the "longevity revolution," will make a rare New York appearance to deliver the keynote address.
"Westchester County continues to lead the way in developing best practices that help seniors age successfully in their homes and communities," Astorino said. "We are excited to present this conference as a way to share knowledge, highlight how technology is benefiting seniors, and tackle some of the most pressing issues in today's rapidly aging society."
The conference will be held at the Westchester Marriott Hotel, 670 White Plains Road (Route 119) in Tarrytown, N.Y. The June 26 program runs from 1 p.m. to 5 p.m. and will focus on new technologies benefiting seniors. The June 27 program runs from 8:30 a.m. to 5 p.m. and will feature the keynote address as well as 15 different workshops on topics ranging from saving for retirement to coping with Alzheimer's.
To register or to be a sponsor or exhibitor, visit http://www.regonline.com/successfulaging. The cost per person is $250 for both days; $100 for June 26 only; and $150 for June 27 only. Friday's program will include lunch and refreshments.
William M. Mooney, Jr., CEO of the Westchester County Association, and Dr. Marsha Gordon, president and CEO of The Business Council of Westchester, will co-chair the conference.
"Westchester County is at the forefront in offering programs and services that enable senior citizens to live in the very communities that they've invested so much time and energy in," said Gordon. "When programs such as this conference are coupled with our top-notch medical care, effective transportation system and innovative services for seniors, it's clear that Westchester is a national leader in taking care of its elderly population. That's good for our seniors and our economy."
The conference is sponsored by the county's Department of Senior Programs and Services (DSPS) and the Livable Communities Collaboratives of the Westchester Public/Private Partnership for Aging Services.
"This important conference is a 'must go' for anyone over the age of 60, as well as for health care providers, business owners and nonprofit leaders who serve seniors," Mooney said. "We all need to be educated about these subjects. The highly acclaimed speakers and workshops are a testament to Westchester County's commitment to seniors."
On June 26, a series of workshops will explore systems that entrepreneurs are designing to better deliver health services, including Westchester County's TIPS initiative.
TIPS is at the forefront of the national telehealth movement in that it combines three key elements to help Westchester's seniors age successfully and avoid unplanned hospital and other medical visits:
•Clinical monitoring of vital signs, including blood pressure, pulse, oxygen levels and weight.
•A complete benefits "check-up" to make sure seniors are aware of all social programs available.
•Hands-on, intergenerational support from a network of volunteers, including graduate student nurses and college students from Pace University.
TIPS is available throughout the county at locations where seniors routinely gather – like senior centers, senior apartment buildings, houses of worship, and libraries – and the benefits are far reaching.
For instance, a recent study by David A. Lindeman, CEO of the Center for Technology and Aging at the University of California and the featured speaker on June 26, found that for each $1 invested in remote monitoring, up to $1.30 was saved in just the first year. Savings were due to a reduction in hospitalization rates and a reduction in the number of home care visits required per patient.
On Friday, June 27, keynote speaker Dychtwald's address will focus on "How the Age Wave Will Transform Our Lives." His talk will include examples of the marketing, health care, workforce and lifestyle changes that the "longevity revolution" is causing.
Dychtwald, Ph.D., is president and chief executive of the California-based company Age Wave, which he founded in 1986 to guide Fortune 500 companies and government leaders on how to develop products and services for baby boomers and seniors. He says organizations will be challenged to transform their strategies over the next decade in areas such as marketing, branding, distribution and product development in order to benefit from the trends an aging population creates.
Dychtwald is also president-elect of the American Society on Aging. A key goal of ASA is to enhance the leadership and knowledge of people who work to improve the quality of life for older adults and their families. The association is supporting workforce education through this conference.
The featured speaker Friday afternoon will be Joe Baker, Esq., president of the Medicare Rights Center.
Friday, June 27 workshops include:
•I'm Too Young to Have Alzheimer's Disease
•Nuts & Bolts of Estate Planning
•Make Sure You Save Enough Money to Last through Retirement
•How to Recognize and Prevent Fraud and Abuse
•Take Control: Lifestyle Tips for Healthy Aging
•Peer-to-Peer Leadership Can Reduce Health Care Disparities in Communities of Color
•Your Toolbox for Successful Aging: Palliative Care is Essential
•Reimagining Aging Through Community Partnerships, Collaborations and Support
•Optimizing Cognitive and Mental Health in Later Life
•Not Enough Retirement Savings? Ways to Make Up the Shortfall
•Are you being Taxed out of Westchester? Students Offer Solutions
•How to Keep a Roof Over Your Head Through the Different Stages of Life
•Care Circles – A Step Forward in Giving Back
•Communicating Through Cultural Differences: A Discussion around Healthcare and Culture
•Building Better Relationships Through Intergenerational Engagement
All conference attendees will receive a copy of "MAP: My Aging Plan." MAP was written by the conference sponsors, and provides specific things people can do to age successfully – starting in their 20's.
Mae Carpenter, DSPS' award-winning commissioner, is nationally recognized for her innovative and practical initiatives for seniors and caregivers. She said a key aim of the conference is to inspire seniors and their families to improve their financial security and lives through thoughtful planning.
"Knowledge is power," Carpenter said. "We have to empower each generation to plan ahead for its successful aging. This program will help motivate them to understand what they must do at different stages of their lives. You don't want to wait, for example, until you realize that your retirement savings will not cover all your expenses when you no longer work. Families must see themselves as teams and think about possible scenarios and 'what if's' ahead of time."
For more information about the conference, please contact Annette Alve at ala3(at)westchestergov(dot)com or (914) 813-6414 or visit http://www.westchestergov.com/seniors.
###
Additional news available at http://www.westchestergov.com
Connect with us on Facebook: http://www.facebook.com/WestchesterGov
Follow us on Twitter: @WestchesterGov