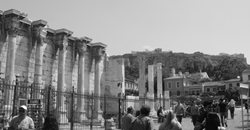 Already popular in countries with severe humanitarian and economic problems, voluntourism is now finding its way into Greece as more people look to make a difference while they travel.
Athens, Greece (PRWEB UK) 22 June 2014
Combadi, a niche experience travel website, is proud to announce the establishment of a series of voluntourism experiences (volunteering while on holiday) in Athens aimed at anyone wishing to get to know Greece while contributing to the socioeconomic recovery and making a real difference.
Voluntourists are able to come to Greece for their holidays and depending on the amount of time and type of activity they want to engage in they will be able to participate in volunteering activities. Current volunteering opportunities on offer are with NGOs engaged in social street work, combating food waste and children's clothes and toys exchange. Volunteers will be placed with energetic local NGOs and can dedicate anywhere from a couple of days to several weeks (no upper limit!).
It's not only work for the voluntourists however. Combadi has put together a cultural and social program that will include tours, workshops and social evenings where participants will discover Athens in the most authentic ways, lead by a collective of local architects and artists (ATA) with a new Athens perspective. This way, volunteers will have a truly immersive and life-changing Greek experience that will stay with them forever.
Starting in Athens, Combadi has teamed up with:

BOROUME, a successful non-profit whose mission is to facilitate the distribution of food that would otherwise be wasted to those that need it. BOROUME requires volunteers with Greek language skills who can work to expand its distribution network of donors.
Emfasis Foundation, a dynamic non-profit involved in daily social street work. The Emfasis Foundation accepts volunteers regardless of their Greek language skills, for administrative roles as well as for hands-on social street work.
Babyfeat, a non profit organization and exchange center for reusable children's items that helps families cover the ever changing needs of toddlers and children.
Combadi's philosophy is that travelers need to come back different from their holidays - we feel so strongly about this, that we've made it our motto. Combadi has been created with one simple mission in mind: to research and select the most intriguing and transformative travel experiences. Our vision is to motivate travelers to discover their life's passion, learn something new—to simply have the time of their life. That's it: an honest approach to help you Come Back Different from your next holiday.