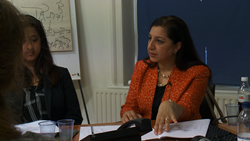 London, United Kingdom (PRWEB UK) 20 June 2014
Head of Legal 500 nominated law firm Duncan Lewis Solicitors Islamic Department Aina Khan delivered a seminar exploring the topic of Muslim Mediation and Arbitration: Insights from Community and Legal Practice as part of the SOAS University's Mediation and Religious Arbitration one-day workshop on the 10th June 2014.
Mediation and religious arbitration are often presented as a dilemma for the liberal state, one that grapples with regulating 'family life' on the one hand and with preserving 'family privacy' on the other. Yet it also occupies an important and contested arena in 'law' whereby competing legal discourses interact and overlap to produce a wide array of disputing mechanisms and outcomes.
The overarching theme for the workshop was to draw upon critical feminist and Muslim feminist literature, empirical research and legal practice to better understand the ways in which such dispute resolution mechanisms are conceived and understood by women as primary users. The workshop aimed to gain insights into the ways in which women's agency, autonomy and personal decision-making capacities and capabilities are expressed via multiple family law dispute resolution mechanisms and as part of their social and legal lived realities.
Aina joined a number of eminent figures, such as Nazmin Akhtar and Shaista Gohir of the Muslim Women's Network, delivering seminars at the event. Aina's topic "Muslim Meditation and English Family Law" saw Aina discussing the implementation of Muslim Mediation in conjunction with English Family Law; a topic Aina has recently made a number of appearances on TV and Radio discussing.
About Duncan Lewis
Duncan Lewis, established in 1998, is the largest civil legal aid practice in the UK and one of the country's fastest growing firms of solicitors, serving both corporate entities and private individuals from offices across London and throughout the UK. A recommended leading law firm by Law Society Lexcel, Legal 500; Duncan Lewis employs over 500 members of staff and was the first law firm to achieve the Investors in People Gold Quality Standard Mark in 2009. Representing over 25,000 clients per year, the company has an excellent reputation in the Administrative Court, High Court and Court of Appeal in the Immigration, Public law and Family/Child Care jurisdictions.
Established areas of law are: business immigration, child care, civil liberties, clinical negligence, community care, crime and fraud, dispute resolution, debt and insolvency, employment, family and divorce, housing, asylum and immigration, litigation, mental health, personal injury, prison law, professional negligence, public law and administrative law, regulatory matters and welfare benefits.