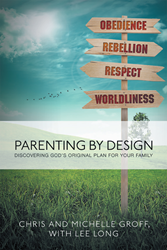 'We include plenty of personal stories of what not to do,' Groff said. 'This book will help parents learn to relate to their children with grace and love, the two key elements in motivating a child to obey from the heart.'
Fort Worth, TX (PRWEB) June 24, 2014
Chris and Michelle Groff followed culture's rules for "successful parenting" only to find failure; at age 16, their youngest son was admitted into a treatment program for addiction.
Their journey with their son through his treatment program led the Groffs to educate themselves about parenting and discover a truly successful model: God's design for parenting. The Groffs started a non-profit parenting ministry to bring these principles to others.
"Our culture's design for 'successful parenting' is flawed," Groff said. "The things our culture values—money, power, recognition—actually inhibit our children's development."
Solidifying the principles of their ministry, the Groffs, along with counselor Lee Long, present their unique parenting guide, "Parenting by Design." Readers are introduced to an ancient parenting paradigm that counters modern parenting culture.
"Parenting by Design" emphasizes using real-life experiences and consequences to teach children how to be godly decision-makers and problem-solvers. It sets itself apart from other books on parenting by teaching that mistakes and conflict are opportunities to learn rather than pain to be avoided.
While most parenting guides are based on "successful parenting" stories, Chris and his wife highlight the consequences of their parenting flaws so other parents can learn from their mistakes and stay off the path they went down.
"We include plenty of personal stories of what not to do," Groff said. "This book will help parents learn to relate to their children with grace and love, the two key elements in motivating a child to obey from the heart."
"Parenting by Design: Discovering God's Original Plan for Your Family"
By: Chris and Michelle Groff with Lee Long
ISBN 978-1-4908-3184-8 (SC); 978-1-4908-3185-5 (HC); 978-1-4908-3183-1 (E-book)
Available at Amazon, Barnes and Noble, and Westbow Press.
About the authors:
Chris Groff is the Executive Director of Parenting by Design and a co-leader of the Parenting by Design seminars. He has a business degree from TCU, a law degree from Baylor, and Master in Christian Education from Dallas Theological Seminary. Michelle Groff, MA, LPC, received her Bachelor of Arts degree from Texas Christian University and her Master in Biblical Counseling from Dallas Theological Seminary. She is a member of the Christian Association for Psychological Studies and the International OCD Foundation. Chris and Michelle have been married for more than 30 years and have two grown sons.
Lee Long, MA, LPCs, co-author and editor of Parenting by Design's parenting curriculum, is a full-time Christian counselor and regular Parenting by Design seminar speaker. He has a Bachelor of Arts in psychology from the University of North Texas and a Masters in Biblical Counseling from Dallas Theological Seminary. Lee and his wife have three children.