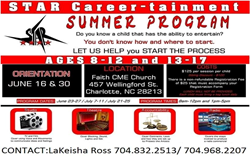 The mission of the STAR Program is to provide our children with resources and opportunities for working in the entertainment industry.
Charlotte, NC (PRWEB) June 20, 2014
This July, Nick Lewis (who has appeared in several theater performances and on DEF Comedy Jam) along with members from public education and other entertainers, will host the Star Career-tainment Summer Program in Charlotte, North Carolina. A curriculum based program designed to introduce the basic business of entertainment to talented children from ages 8 to 17. "Those of us in the business know how easily new talent can be taken advantage of when they don't know where or how to begin," declares actor-writer-comedian Nick Lewis. "The mission of the STAR Program is to provide our children with resources and opportunities for working in the entertainment industry.
The STAR Career-tainment Program lasts for one week and was developed by experienced educators and entertainers to provide kids 8 to 17 years of age, basic knowledge of how to get started in the entertainment industry. There are courses offered in Studio (TV & Film), Theater, Accountability (legal), and Radio. Currently there are two sessions this summer divided into two times slots.
Session 1 begins July 7, 2014. Courses targeting ages 8-12 are from 8 am until 12 noon. Courses for ages 13 to 17 are offered from 1 pm to 5 pm. The second session is scheduled for July 21 - 25, with a third possible session offered in August that will be announced at a later date based on interest.
Guest speakers for the courses include: Actor/Comedian/ and program developer Nick Lewis; Radio Host at Old School FM 105.3,Olympia D; Modelling Agency Owner Vince Paul of Talent Link, and Attorney Tracy Hatcher of The Hatcher Law Office, PLLC.
The program fee is an affordable $125 with a non-refundable registration fee of $25. The Star Program will be located at Faith CME Church at 457 Wellingford Street in Charlotte. Limited space is available with registration ending June 30, 2014. For more information and to register your child, contact at 704-832-2513 / 704-712-9866. Sponsorship information is also available by contacting uscottcomedy(at)aol(dot)com.
About STAR Career—tainment Program
The program is designed to show career options and give classes with basic information on studio, theater, legal and radio. All Star Program instructors are certified in their respective professions. The instructional designer for the Starr Program, Mary Hunt, worked in education for over 40 years that included tenure at Alabama A&M University. The instructors have registered with Charlotte-Mecklenburg Schools (CMS) as volunteers and have over 10 years of experience in their chosen professions. All classes will implement various strategies and methodologies to address the needs of the learner. Star Program classes are "hands-on" giving the students real world experience. Students will also learn to develop interdisciplinary skills that will equip them for learning in high school and post-secondary education.