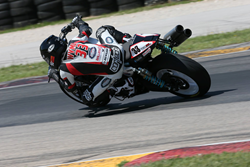 I've never been more hungry to race as I am now.
Plymouth,WI (PRWEB) June 20, 2014
After his victory in the Harley-Davidson series at Road America earlier this month, Millennium Technologies sponsored rider Kyle Wyman will be pulling double duty this weekend at Barber Motosports Park by competing in both the Daytona Sportbike and Harley-Davidson events in an effort to earn additional championship points. Current series points leader Tyler O'Hara will also participate in the event, who Wyman took victory over in a heated race-long battle during his last trip to the Alabama park.
"I've been looking forward to this event since the checkered flag flew at Road America," Wyman said. "I've never been more hungry to race as I am now. The motivation I carried into the last race has far from worn off, and I can't wait to head back out on both of my Millennium Technologies machines. In the Harley class we have an 18-point gap to make up, so I'm determined to chip away at the deficit."
Kyle Wyman is currently placed 6th for points after the first two rounds of the AMA Pro Daytona Sportbike series. Wyman took two 8th place finishes at Road America to place him just outside of the top five contenders. Wyman will be racing aboard his Yamaha R6 for the series.
"I'm really happy to be where we are in points on the Yamaha," said Wyman. "We have a short season but we've been making rapid progress with the bike. We've finished 6th a few times in this class and I think Barber will give us a great opportunity for a top five. I have faith in my crew and the bike, and I'm feeling fit and prepared for the heat."
Coverage of the AMA Pro Road Racing series event at Barber Motosports Park will begin airing live at 8:40 a.m. CST for Daytona Sportbike qualification. To view the coverage tune into http://www.fanschoice.tv Racing coverage will begin Saturday June 21st at 2:00 p.m. CST and Sunday June 22nd at 12:15 CST.
To follow Kyle's career, visit http://www.facebook.com/kylewymanfans.
To build a bike as fast as Kyle's, visit http://www.mt-llc.com.