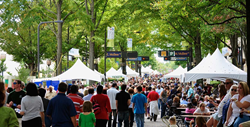 Best Farmer's Markets in the South
Greenville, South Carolina (PRWEB) June 22, 2014
Looking for fun things to do in Greenville, South Carolina? Real Estate Scorecard finds the Saturday Market in Greenville offers much more than shopping for locally grown fruits and veggies. Locals and visitors alike think of it more like a neighborhood block party. There are musical performances, cooking demonstrations, plants, jams, jellies, juices, pies, pastas, cheese and lots more. That's just part of the reason the Saturday Market was named one of the best farmer's markets in the South. Check out what's coming this summer near Lake Keowee neighborhoods:
On Saturday, June 28th, Cecil Thompkins performs. He writes and performs bluegrass-inspired acoustic folk with a unique perspective and passion. Born and raised in northeast Alabama in a rural area of tin-roofed barns and barbwire fences, Thompkins has traveled throughout the Southeast gathering inspiration from the people, landscape, and stories of this beautiful region. Blending modern subjects and musical forms with those of old, Thompkin's performances include high-energy bluegrass-styled tunes and explorations of blues rhythms punctuated with mournful heart-felt songs.
On July 5th, Lucy Allen and Marshall Goers sing and play folk music on the guitar, banjo and mandolin. The duo's soulful performances connect with the audience until performer and listener are intertwined in the story, distilling the essence of an experience into song. Goers and Allen bring their music to Western North Carolina and Upstate South Carolina, along with their unique set of talents that go far beyond picking and singing.
But the biggest draw at the farmer's market is the food for sale. Some of the Saturday Market Vendors include:
High Valley Farm
Specialties: Asian Greens, Beans, Beets, Spinach, Tomatoes, Watermelon, and Sweet Potatoes
Holliday's Veggie Patch
Specialties: Eggplant, Green Beans, Cantaloupes, English Peas, Blackberries, Figs, Pumpkins, Kale, Peach Jam, Strawberry Jam, Blackberry Jam, Fig Preserves, Muscadine Jelly, Chow-Chow, Squash Relish, Squash Pickles, Cucumber Pickles, Pepper Jelly, Pepper Relish, Okra Pickles, Zucchini Pickles, Salsa, Apple Butter, Sweet Potato
Marvelous Pies
Specialties: Strawberry Pies, Blueberry Pies, Peach Pies, Apple Pies, Chess Pies, Pumpkin Pies, and Pecan Pies
Merciful Hearts
Specialties: Free Range Chicken & Duck Eggs, Handspun Yarns, Hand Painted Yarns, Natural Colored & Dyed Wool, Felted Soap-In-A-Coat, Felted Flowers & Brooches
Smart Chicken Farms
Specialties: Non-GMO Chicken, Non-GMO Eggs, Non-GMO Pet Food Supplement, Non-GMO Pastured Turkeys, Non-GMO Pastured Pork Sausage, Pork Chops, Pork Tenderloin, etc. (Late Summer for Pork, Fall for Turkey)
Soby's On the Side
Specialties: Shrimp & Grits, Breakfast Wraps, Greenfields Bagels, Muffins, Chocolate Croissants, Strawberry Croissants, Cinnamon Rolls, Fruit Cups, Yogurt Parfaits, Frittata Du Jour, Crepe Station, Mufaletta & Caprese
Split Creek Farm
Specialties: Goat Milk, Goat Cheese, Yogurt, Fudge, Goat Milk Soap
Between 1994 and 2009, the number of farmer's markets in the United States tripled. Today, there are more than 5,000 farmer's markets operating nationwide.
That increase has been driven by baby boomers and their desire to buy more local, organic, fresh foods. This demographic also has an income that allows them to purchase more expensive and better quality produce than what is found in most mainstream supermarkets.
Eating right is just part of the good living equation found in retirement. Just imagine it, a trip to the farmer's market in the morning then spending the rest of the day on the lake at The Reserve at Lake Keowee enjoying the perfect weather on a boat or on the golf course. For many Western South Carolina lake communities; this isn't a fantasy, it's a reality.
That's what retirement living is like in the best places to live in South Carolina. At The Reserve at Lake Keowee, residents don't have to travel beyond the neighborhood for fun aquatic activities. This South Carolina lake community has a full service marina for property boat owners and is named one of the Best Boating Lakes by Links Magazine. Lake Keowee is a popular lake with the anglers, home to large mouth and spotted bass. Kayakers enjoy exploring the islands and coves tucked away from the main body of water of Lake Keowee.
Take a peek at The Reserve at Lake Keowee homes.
What does healthy living look like? Is it spending time outdoors shopping for freshly grown food? Is enjoying fresh air outdoors boating with your friends and family?
That's all part of the fun things to do in Greenville, South Carolina.
Buyers interested in checking out the good life in Western South Carolina lake communities, contact The Reserve at Lake Keowee direct at 877.922.5253 to schedule a tour to see their lakefront model homes.
About Real Estate Scorecard:
Real Estate Scorecard writes unbiased real estate reviews providing in-depth information about popular gated communities in Florida, Georgia, North Carolina, South Carolina and Tennessee, all in an effort to help people discover where to retire in the Southeast.
Website: http://realestatescorecard.com