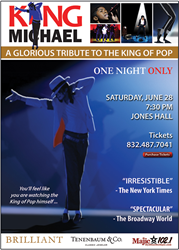 "IRRESISTIBLE"- The New York Times
Houston, Texas (PRWEB) June 20, 2014
Michael Jackson fans of all ages have the opportunity to experience a multimedia performance featuring three of the world's best Michael Jackson impersonators. The "King Michael: A Glorious Tribute to the King of Pop" comes to Houston later this month. Presented by BRILLIANT, this one night only show is set for Saturday, June 28, at Jones Hall at 7:30 p.m. in the Houston Theatre District.
Michael Firestone, Brandon "Michael" Jones and Jacquez Swanigan, only 11 years old, will portray Michael Jackson during various stages of his life and career. These performers have mastered the sophisticated and iconic dance moves and sounds that earned Michael Jackson the reputation as "The Best-Selling Pop Male Artist of the Millennium." The show also features the King Michael Band, Grammy Award-winning singers, Broadway and Las Vegas dancers, video jockeys and urban acrobats.
"BRILLIANT is proud to bring this critically acclaimed production to Houston in commemoration of the fifth anniversary of the death of Michael Jackson. The King Michael tribute show celebrates his life and incredible body of work. We fully expect that our audience on June 28 will feel that they are having a close encounter with the star himself," commented Scott Brogan, executive director of BRILLIANT.
Steve Love is the show's executive producer. The show is produced and directed by Eric Martin. Val Brochard provides art direction.
BRILLIANT is known for presenting programs that educate, inspire and entertain its audiences from every walk of life. Established in 2005 in Houston, BRILLIANT delivers interactive audience experiences featuring regional, national and international leaders, role models, philanthropists, humanitarians, entertainers, artists, and other renowned individuals. Tenenbaum & Co., Houston-based purveyors of fine jewelry, is BRILLIANT's annual sponsor for all 2014 events.
Tickets starting at $55 are available via the Jones Hall Box Office at 832.487.7041 or online at http://www.brilliantlectures.org.