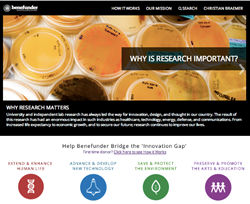 We allow donors to create research giving portfolios just as they would in an investment account.
San Diego, CA (PRWEB) June 24, 2014
Benefunder, a San Diego based non-profit is excited to announce its recent addition of top researchers from UC Berkeley, USC, Washington University St. Louis, Purdue, Carnegie Mellon, Colorado University, and UT Austin to its innovation funding site.
Benefunder is a donor advised fund dedicated to solving the innovation deficit, the widening gap between the level of federal funding allotted for research and the actual investment needed for the U.S. to remain the innovation leader. "We allow donors to build research giving portfolio's just as they would in an investment account," says Christian Braemer, CEO and Co-founder. "We cut out the middle man and allow donors to find, fund, and follow researchers directly, significantly reducing overhead, and allowing participation in the outcomes for the first time."
Benefunder aims to integrate with wealth management firms as a product so that financial advisors can increase relationships with their clients by including philanthropy into their workflow. Since over half of all U.S. economic growth since WWII can be directly attributed to university research, it is just as relevant for firms to be involved as the researchers and donors themselves. Currently, less than 3% of the more than $227B in philanthropic funding actually makes its way to research – the single area that produces the greatest returns to our economy and humanity. 95% of high net worth individuals currently give, which is a perfect overlap with wealth management clients. If successful, Benefunder believes it can bring $1B in new research funding to its partners over the next 5 years.
These new researchers, from some of the nation's top universities, see the need for continued funding from outside sources and are joining Benefunder's growing pool of faculty from UC San Diego, where Benefunder piloted the non-profit platform. Benefunder is targeting relationships with the top 50 universities and research institutes across the country.
ABOUT BENEFUNDER
Benefunder is a new philanthropic platform that channels funds from private wealth management firms, corporate donors and (family) foundations into academic research, with minimal overhead and maximal transparency. Benefunder helps donors to find, fund, and follow the research that matters to them, by matching them with the right researchers. It provides researchers with a new opportunity to create lasting relationships with suitable patrons from across the country and generate recurring donations to fund their work and vision.