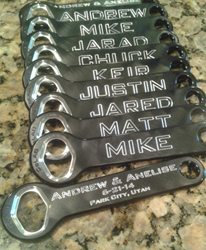 Salt Lake City, UT (PRWEB) June 25, 2014
After sharing a few beers one night, friends, Mike Shiba and Nicole Nagata wanted to create a fully customizable bottle opener, one that would allow the consumer to create a unique, personalized product. Shortly after, CoLAB Bottle Openers LLC was born.
Shiba, a machinist by trade for over 14 years, based the original bottle opener design on custom wrenches he made for his motocross and mountain bikes. The duo decided to launch a line of expertly crafted, custom engraved bottle openers out of a machine shop near Salt Lake City. CoLAB Bottle Openers offers customization of pocket and wrench-sized openers, perfect for beer lovers, bartenders, and cap collectors alike.
"These are not your average bottle openers made from stamped steel or cheap cast aluminum," said Shiba. "We not only do production but also make sure every opener is perfect right out of the machine."
Now, CoLAB is asking for help to buy equipment to get the business off the ground. To help boost their entrepreneurial effort, Shiba and Nagata have launched a Kickstarter campaign to purchase production equipment. Currently, the business partners are borrowing the equipment they use to make small batches and prototypes of each bottle opener. Shiba and Nagata hope to raise $9,999 by July 4 to buy tooling and equipment for a CNC machine, as well as other production parts.
"With these items, we will be able to keep producing our openers but on a larger scale so we can keep costs low and streamline production and distribution while still spending time focusing on the high quality and craftsmanship of our product," said Nagata.
To donate to CoLAB Bottle Openers LLC's Kickstarter campaign, please visit: https://www.kickstarter.com/projects/colabbottleopeners/colab-bottle-openers-llc-custom-engraved-bottle-op.
About CoLAB Bottle Openers
CoLAB bottle openers are designed and handcrafted near Salt Lake City, UT. Each aluminum opener is individually crafted to ensure the highest quality of craftsmanship—no mass production here. CoLAB also works closely with local companies to buy material, anodize each aluminum opener, and laser-cut their stainless steel BrewersCards. In maintaining their commitment to sustainability, CoLAB also recycles every piece of aluminum scraps leftover from production.
The BrewersCard fits in a wallet or can be attached to a lanyard. The MicroBrewer goes right on your keychain while the wrench-sized HomeBrewer is great for bartenders and home use. These three openers have a bi-directional opening design. The unique fulcrum opener design on the CraftBrewer ensures minimal impact on the integrity of each bottle cap removed making this opener perfect for cap collectors and hobbyists. Each hand-sanded opener can be custom engraved and are available in a variety of colors.
Contact
To learn more, please contact:
Nicole Nagata
pr(at)colabbottleopeners(dot)com
801-580-3531
http://www.colabbottleopeners.com
Or see the latest news at:
Instagram - http://instagram.com/colab_bottle_openers
Facebook - https://www.facebook.com/colabbottleopeners
Twitter - https://twitter.com/colab_openers
###