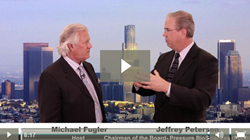 (PRWEB) August 28, 2014
Pressure BioSciences Inc., ("PBI") (OTCQB: PBIO) was one of the presenting companies at the recent FSXinterlinked Investment Conference held at the Four Seasons Hotel in Westlake Village, California.
PBI is focused on the development, marketing, and sale of proprietary laboratory instrumentation and associated consumables based on Pressure Cycling Technology ("PCT").
PCT is a patented, enabling technology platform with multiple applications in the estimated $6 billion life sciences sample preparation market. PCT uses cycles of hydrostatic pressure between ambient and ultra-high levels to control bio-molecular interactions for the subsequent, high-quality analysis of samples in scientific studies.
As a presenting company at the event, Chairman of the PBI Board Mr. Jeffrey N. Peterson was interviewed by FSXinterlinked host Michael Fugler.
"Michael is able to ask just the right questions to get the simplest, most informative descriptions of what our presenting companies do and who these entrepreneurs are," stated Mr. Delray Wannemacher, FSXinterlinked President.
During the interview, Mr. Peterson said, "Pressure BioSciences is a company focused on a very important step that is a part of all life science studies worldwide: sample preparation. In life science research and development, the better the quality of the preparation of the sample being analyzed, the greater the quality of the result (per the old adage, "garbage in, garbage out"). Scientists may be looking at tumor biopsy samples of patients who responded to treatment and those who did not, trying to detect the reasons why the response to therapy was so different. Or they might be breaking open a pathogen (e.g., a virus or a bacterium) trying to find its "Achilles Heel". The answer to these and many other investigations may be the discovery of a "bio-marker" that can lead to the detection, prevention, control, or cure of a disease and disorder. To find such bio-markers is an incredibly difficult course of events, since cells, pathogens, etc, are very complex samples. The challenge is often how you open the cell of interest that may contain thousands of different proteins, lipids, DNA, and other biomolecules, and present the one and only biomolecule you need to find the difference."
The key today in the important step of preparing a sample to liberate biomolecules to study differences is that research scientists currently use physical abuse, temperature abuse, or chemical abuse as methods to tear up the sample to liberate the biomolecule of interest. Unfortunately, in many cases, the biomolecule that is being sought after is modified or destroyed in the process.
Mr. Peterson refers to pressure as the gentle giant. "PCT has the unique and immense ability to disentangle and liberate things and to subsequently present the bio-molecules we need to see without destroying them,"
The complete exclusive interview is available only on the FSXinterlinked channel on InterlinkedTV.
More information is available at PBI's Public Profile on Interlinked.com and on their website.
__________________________________________________________________________________
About FSXinterlinked Investment Conference
FSXinterlinked is the premier investment conference organization in the United States. Founded as Financial Services Exchange (FSX) in 1983, it is one of the longest standing and most trusted investment conferences in the country for Broker Dealers and financial professionals. For more information about our organization, please visit FSXinterlinked.com.
About Interlinked
Interlinked is a global investment community of investors, emerging growth companies, and resource partners. Interlinked offers an efficient way for companies to maximize exposure and access a private network of funding sources and verified service providers. For investors, Interlinked provides a secure environment to find, vet and engage companies, and communicate with members. Interlinked gives members exclusive access to a proprietary investment platform, which integrates virtual data rooms, video news, a service provider marketplace, an event directory, and customized marketing services, including email marketing, video production, public relations and more. For more information, visit: http://www.interlinked.com/.
About Pressure BioSciences, Inc.
Pressure BioSciences, Inc. ("PBI") (OTCQB: PBIO) develops, markets, and sells proprietary laboratory instrumentation and associated consumables to the estimated $6 billion life sciences sample preparation market. Our products are based on the unique properties of both constant (i.e., static) and alternating (i.e., pressure cycling technology, or PCT) hydrostatic pressure. PCT is a patented enabling technology platform that uses alternating cycles of hydrostatic pressure between ambient and ultra-high levels to safely and reproducibly control bio-molecular interactions. To date, we have installed over 250 PCT systems in approximately 160 sites worldwide. There are over 100 publications citing the advantages of the PCT platform over competitive methods, many from key opinion leaders. Our primary development and sales efforts are in the biomarker discovery, drug discovery and design, and forensics areas. Customers also use our products in other areas, such as bio-therapeutics characterization, soil & plant biology, vaccine development, and counter-bioterror applications.
Safe Harbor Statement
This press release may contain information that constitutes forward-looking statements made pursuant to the safe harbor provisions of the Private Securities Litigation Reform Act of 1995. All statements, trends, analysis, and other information contained in this press release, including words such as "anticipate," "believe," "plan," "estimate," "expect," "intend," and other similar expressions of opinion, constitute forward-looking statements. Any such forward-looking statements involve risks and uncertainties that could cause actual results to differ materially from any future results described within the forward-looking statements. Risk factors that could contribute to such differences include those matters more fully disclosed in the Company's reports filed with the Securities and Exchange Commission. The forward-looking information provided herein represents the Company's estimates as of the date of the press release, and subsequent events and developments may cause the Company's estimates to change. The Company specifically disclaims any obligation to update the forward-looking information in the future. Therefore, this forward-looking information should not be relied upon as representing the Company's estimates of its future financial performance as of any date subsequent to the date of this press release.