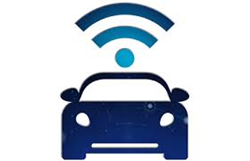 We listen to our customer base in looking for a connected car solution and we delivered. -Susan Stoker CFO
Belleville, MI (PRWEB) June 26, 2014
Safety Track a leading GPS Fleet Management provider announced today the addition of its new Connected Car solution.
A connected car is a car that is equipped with internet access, and usually also with a wireless local area network. This allows the car to share internet access to other devices both inside and outside the vehicle. Often, the car is also outfitted with special technologies that tap into the internet access or wireless LAN and provide additional benefits to the driver. Examples include: automatic notification of crashes, notification of speeding, and driver scorecard.
By adding Safety Track's small device to any vehicle, turns that vehicle into a WIFI hotspot, providing multiple users the ability to connect to the internet. Password protected and secure, this mobile device can turn your fleet vehicles into mobile offices. This solution not only gives your Fleet Vehicle a built in 3G/4G hotspot, but the option of a full GPS tracking suite as well.
Built to be used with a choice of wireless carriers, the Connected Car from Safety Track now has coverage for every fleet.
About Safety Track LLC:
Safety Track, a woman and family owned business, was established in late 2002 in a local family basement. Throughout its growth, now reaching international status, Safety Track is committed to keeping that 'mom and pop' feel by making customers their top priority. Safety Track helps businesses and fleet owners alike maintain control over their vehicles; whether it's within vehicle cameras, GPS or a combination of both. While striving to make running a fleet easier, Safety Track's top priority it to promote safe driving habits, not only for fleet drivers, but for drivers everywhere.