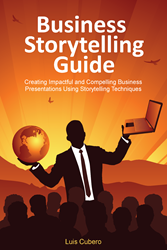 Now anyone can be a business storyteller.
Eagle, ID (PRWEB) June 22, 2014
Intracon North America announces the release of a unique book, Business Storytelling Guide, by Luis Cubero, for business professionals seeking an easy and reliable method for incorporating storytelling techniques into business presentations. Business storytelling is often associated with executive leadership or brand management, but, now, with the "Business Storytelling Guide," anyone can be a business storyteller," says Raymond Kramer, managing director of Intracon North America.
The idea for business storytelling occurred to Luis Cubero years ago during a screening of Indiana Jones and the Temple of Doom. This action-packed adventure captivated Luis for the entire length of the movie. Later, in a business meeting, the discussion turned to the attention span of a business presentation audience. Many agreed that the attention span is usually short (about 10-15 minutes), but Luis could not agree. He asked "Why can't business presentations be exciting like movies are?"
Movies, like Indiana Jones, Star Wars, and many others are developed using a storytelling formula called The Hero's Journey. The Business Storytelling Guide uses the same formula for business presentations. It transforms boring presentations into meaningful and compelling business narratives where the audience is the hero overcoming challenges. Like many heroic stories, the goal of a business narrative is to show the audience how to overcome challenges in their everyday (ordinary) world.
The Business Storytelling Guide is essentially a reference book. It provides a template with instructions to develop compelling business presentations. This process gets easier each time a presenter uses it, and, ultimately, the presenter develops a natural storytelling ability no longer needing the guide. Then the presenter can pass the Business Storytelling Guide along to a friend or co-worker.
Developing a new skill is a challenge in today's busy world with tight schedules and deadlines. Many aspiring business storytellers give up prematurely. Luis could see that people need help to get started, and they need a way to make business stories a little easier to create. Early success is important because it gives the beginning storyteller confidence to continue using these techniques.
The Business Storytelling Guide is available at Amazon and Barnes and Noble online bookstores.