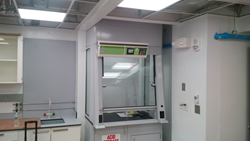 Rowley, MA (PRWEB) June 22, 2014
Once again, Erlab solves a challenging problem by providing a safe, versatile, easy to install, and powerful filtered fume hood using GreenFumeHood Technology. Harvard University's Lyman Laboratory of Physics required an additional fume hood. The common option is a traditional ducted fume hood. This posed a challenge because the lab is located on the bottom floor of an historic building with limited space, resources, and no available ductwork. It was determined that a traditional fume hood was not an option with the current infrastructure. A low-flow fume hood was offered at no cost, but the EH&S department refused it because the low face velocity did not comply with their standards.
Harvard's research in this lab focuses on studying ultra-cold gases loaded into artificial crystals of light known as optical lattices. The fume hood they need for this type of research must have the ability to simultaneously handle solvents, acids, and bases, be easy to integrate into the lab, need no ductwork, meet face velocity standards, have an advanced detection system, and have a BACnet option to remotely monitor the hood.
The answer was the Green Solution Hood from Air Master Systems featuring Erlab's GreenFumeHood Technology - a superior molecular filtration technology that utilizes pre-filtration, an enhanced patented molecular filter known as NeutrodineTM within the uniquely designed filter housing. The Green Solution Hood is also equipped with detection and communication features which guarantees user safety.
Erlab understands the challenges of renovating or adding on to existing lab space and offers a solution that is ideal for the majority of environments, which made the Green Solution Hood the perfect solution for Harvard's physics lab.
Visit http://www.erlab.com to learn more about Erlab's commitment to the safety of laboratory personnel.