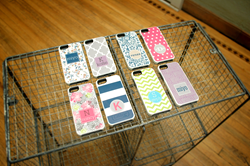 Trinidad, Colorado (PRWEB) June 23, 2014
Rendi announced today the launch of 81 original customized designs that it prints on OtterBox's new Symmetry Series cases for iPhone 5 and 5s.
Through a design tool on the Rendi website, women can choose from a variety of patterns, color combinations, and customized monogram labels to create a truly personalized case for their phones. These cases are not only protective, but also an expression of personal style – with designs ranging from trendy to sophisticated.
"Rendi's case customization designs give women lots of fun patterns and colors to choose from to personalize their phones. Our product launch is a harbinger of much more phone fashion to come," says Annie Danielson, owner of Rendi.
Annie and her husband, Mark Danielson, have been designing and producing high-quality customizable home décor since 2009. In 2013, they launched the Rendi Tag It! app to help busy women easily move photos off of their phone and preserve them for the next generation. Annie's brother, Curt Richardson, is the founder of OtterBox and it just made sense to offer Rendi's successful customization processes with OtterBox's protective technology to bring women customizable phone cases.
"Rendi has been in the business of helping busy women preserve and protect their family's priceless memories for years. OtterBox has been helping people protect their technology for years. So bringing those two missions together creates an exciting new fashion product for the technology market," added Mark Danielson.
Rendi is an OtterBox authorized dealer. A customized OtterBox Symmetry case for iPhone 5 & 5s retails for $69.95 (shipping & handling included) and is available only on the Rendi Website. To celebrate the launch, Rendi is hosting contests and special offers on its Facebook page.
About Rendi
Rendi is a web based customization company that makes it easy for the busy woman to protect and preserve life's priceless moments with custom picture frames, custom signs, an app based memory keeping system and custom OtterBox phone covers. For more information, visit http://www.rendistyle.com.