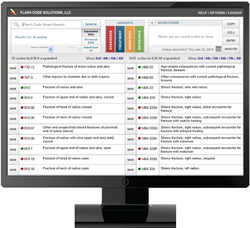 This program will provide a comprehensive ICD-10 training and conversion tool at no cost for government agencies and military facilities.
Los Angeles, CA (PRWEB) June 24, 2014
BACKGROUND
Health care providers, hospitals and health insurance companies currently use the ICD-9-CM diagnosis coding system to define accidents, injuries, illnesses, signs, symptoms and ill-defined conditions to justify medical procedures and services. The use of these codes is mandated by HIPAA regulations for all private, public and government healthcare entities.
On October 1, 2015, the healthcare industry will convert from the ICD-9-CM coding system to the ICD-10 system for reporting diagnosis. The ICD-10 system has about 10 times more codes than the current system and is far more complex, requiring the modification of all coding software and extensive training of both professional and coding staff.
Government agencies and military installations are required to use the same diagnosis coding systems as private healthcare entities. Access to these coding systems and training programs often involves complicated bidding processes and higher costs to government agencies and military entities.
WHAT IS FLASH CODE?
Flash Code is a comprehensive coding software program used for medical procedure and diagnosis coding. Flash Code is designed to make the process of medical coding faster and easier. Flash Code is delivered in SaaS format and installations range from single users to a health insurance company with over 15,000 users.
Flash Code with Smart Search uses a sophisticated proprietary search algorithm to improve search results and includes exclusive features and benefits, including side-by-side display of search results in both ICD-9 and ICD-10. Flash Code runs on any PC, laptop or tablet with internet access. Available 24/7, Flash Code is delivered on fast and highly available servers with up time exceeding 99.9% per year. The website has processed over 2 billion hits; delivering over 500 million page views to over 10 million visitors.
ROYALTY FREE ACCESS FOR GOVERNMENT AGENCIES AND MILITARY FACILITIES
Flash Code solutions has created an exclusive portal to provide government agencies and military facilities license free access to the Flash Code diagnosis coding engine. The project, part of the company's government services education and procurement program, is designed to assist government agencies and military installations with the conversion from the ICD-9 to the ICD-10 coding system on October 1, 2015.
The program is open to all registered users from qualifying agencies and facilities. Registered users will have unrestricted access to the Flash Code diagnosis coding engine for one calendar year from the date of registration. At the end of the calendar year users will have the option to continue unrestricted access with a paid subscription or may continue license free access on a limited basis.
HOW TO REGISTER FOR ACCESS TO THE FLASH CODE GOVERNMENT AGENCY AND MILITARY FACILITY PORTAL
Access to this special program is available to all individuals with an email address ending in the Internet top-level domains (TLD) .gov for government agencies or .mil for U.S. military. To register for access to the Flash Code ICD-9 & ICD-10 Coding Solution with Smart Search please visit http://pmiconline.com/icdcoding-gov-mil.html.
Flash Code is a registered trademark of Flash Code Solutions, LLC. All rights reserved