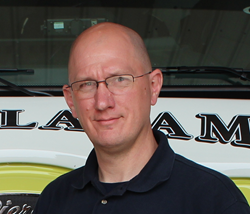 Orange Beach, AL (PRWEB) June 23, 2014
The Alabama Association of Fire Chiefs (AAFC) and Columbia Southern University (CSU) have awarded a two-year scholarship to East Alabama Fire District Fire Chief Troy Marberry.
A CSU student since 2012, Marberry won the scholarship based on his entry in an essay contest sponsored by CSU and the AAFC, an organization that provides professional opportunities for fire chiefs. He plans to use the award to complete his online master's degree in emergency services management with CSU.
"I know from firsthand experience the advantages of CSU are numerous, including the flexibility of not being tied to a traditional classroom and the outstanding customer service. As the chief of my department, that flexibility of being able to work online when time allows is paramount," said Marberry, who is a member of the AFFC.
He holds a bachelor's degree from Waldorf College, CSU's sister institution. "The degree I received from Waldorf College was the 'jumpstart' I needed to further my career," Marberry explained. "A few months after graduating from Waldorf College, I was promoted to fire chief of my organization."
He plans to extend his learning and leadership as fire chief to help the East Alabama Fire District. "My career goal within my current organization is to continue to improve the organization and to place more and more emphasis on fire and injury prevention programs to provide a higher quality of life to the community we live in and protect."
CSU offers online associate, bachelor's and master's degree programs in various fields including criminal justice, fire administration, occupational safety and health, and business administration. To learn more about CSU, please visit http://www.ColumbiaSouthern.edu.