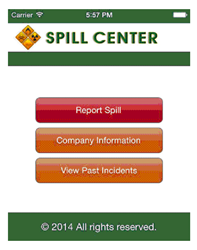 Spill Center is a nationwide, 24-hour emergency resource dedicated to reducing environmental liability for companies that become spill generators.
Hudson, MA (PRWEB) June 25, 2014
Spill Center has launched a new version of Spill Center Mobile, the app which enables users to report spills from anywhere using a mobile device. The app provides the ability to instantly begin to respond to, report and request cleanup and safe disposal of spilled materials by automatically reporting location information and user identification.
Users include Spill Center clients in the insurance, chemical, environmental and transportation industries – from the largest truckload, less-than-truckload and private fleets to small fleets – to improve their preparedness to handle pollution events and other environmental spills requiring emergency response, cleanup, waste disposal and mandatory reporting.
The newest version of Spill Center Mobile, which is optimized for iPhone 5, requires iOS 7.0 or later, and is compatible with iPhone and iPad. Available in English and French, it can be downloaded from the iTunes Store here.
The updated app, which is more responsive than the previous version, enables users to view past spills, attach photos to past spills and view company information.
Spill Center Mobile is also available for Android devices. Version 1.2 of the app can be downloaded from the Google Play Store.
Spill Center's team includes legal, technical and environmental specialists who are experienced in regulatory reporting, cleanup contractor referral and management, as well as industry compliance, documentation and invoice auditing. Spill Center Mobile puts users in contact with Spill Center staff, 24/7, for fast response to environmental spills.
Spill Center was founded in 1990 to help users immediately respond to environmental releases, oil and chemical incidents and pollution events. Spill Center provides emergency response management systems to industry and government and has become a global leader in spill planning, reporting, emergency response communication and environmental claims management.
For more information on Spill Center's program of support for clients and environmental management services, call Tom Moses, president, at 978-568-1922, Ext. 222, or email him at tmoses(at)spillcenter(dot)com.