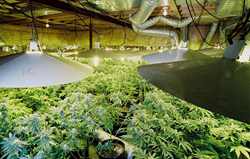 The RCMP estimates there are at least 50,000 marijuana grow-ops in Canada.
(PRWEB) June 25, 2014
The RCMP estimates there are at least 50,000 marijuana grow-ops in Canada, according to an article in the Daily Commercial News, dated April 26, 2012 (http://www.dcnonl.com/article/id49896). Azmairnin Jadavji, President of Pardon Services Canada, says his staff are now hearing more often from clients that have a criminal record as a result of grow-op "house-sitting," where the person has been paid to oversee the homes that are producing the plants. Mr. Jadavji notes people may naively accept such offers thinking this is an easy way to make extra cash, having no idea what ramifications could be in store for them.
Unbeknownst to the house sitter, if caught by police, they can be charged with a number of things – production, cultivation or possession of a scheduled substance, possession for the purpose of trafficking, and possession of property obtained through crime, just to name a few. All of this even if the plants, the house or the paraphernalia associated with the operation, is not actually owned by the house sitter.
On a related note, landlords can be held responsible for their tenants' grow-ops resulting in a conviction for the landlord as well as fines for by-law and code violations. How do the police detect these operations? From information provided by an electrical utility company. Without prompting, the company can provide information to police about abnormally high electricity consumption in homes.
A case in the Ontario Superior Court of Justice from May 22, 2014 (Court file #12-3882) involved a house in the Hamilton area found growing 187 cannabis plants, with 4.5 kilograms of processed marijuana and possessing almost $23,000 in cash. The couple charged in this case had their lawyer argue that their privacy was unlawfully infringed upon without probable cause. This would be true in other circumstances; however there is no police policy when it comes to receiving information from hydro companies, and large hydro consumption or inconsistencies in usage can indicate a grow-op. The utility company and Ontario's Energy Board conditions of service also contain notices about police notification when there is unauthorized energy use.
In light of the above, if ever approached to house-sit or rent to a grow-op, keep in mind that you can be considered just as guilty as the owner of the operation.
About Pardon Services Canada
An industry leader in helping Canadians overcome the obstacles of a criminal record. Since 1989, Pardon Services Canada has successfully assisted over 100,000 Canadians exercise their lawful rights under the Criminal Records Act of Canada, and the Immigration and Nationality Act of the United States. Services include US Entry Waivers, Record Suspensions (formerly called pardons), and fingerprinting. Offices are located in Vancouver, Calgary, Toronto, Edmonton, Ottawa and Montreal. Call toll free 1-866-972-7366 or visit the website Pardon Services Canada