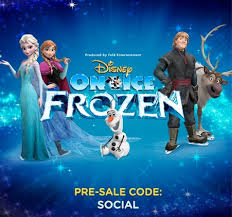 Tickets for the show are selling fast. There will come a point when they will be completely sold out. People are therefore requested to hurry up and book their tickets as soon as possible
Philadelphia, PA (PRWEB) June 27, 2014
TicketFront brings you exclusive tickets for the show Disney on Ice: Frozen, being held in 2015 at a number of venues throughout the year. The website allows people to choose from a variety of different vendors selling tickets for the show.
According to the spokesperson of TicketFront.com, "Tickets for the show are selling fast. There will come a point when they will be completely sold out. People are therefore requested to hurry and book their tickets as soon as possible."
The show will be an epic performance featuring about 20 snow machines and 39 performers in all. With the help of the snow machines, an artificial blizzard and a stage of snowflakes will be created. The producer of the show is Nicole Feld, and new and old fans are eagerly awaiting the performances.
On the website, customers can view details regarding the venue of the show, ticket delivery date, and the respective information on the row and section you will be sitting in. Moreover, to facilitate the customers' search even more, they offer a rating system establishing the reliability of the vendor selling the tickets.
"TicketFront.com provides customers with a transaction process that is hassle-free, quick, and secure. We have customers from all over the world buying Disney on Ice tickets from us. For this reason, our site is open to the public day and night," the spokesperson added.
Recently, the Disney movie Frozen won the hearts of fans all over the world, setting a new record of becoming the highest grossing animated movie at $1.2 billion. It even beat the record that was set by Toy Story 3. The producers of the show and the fans have high hopes for Disney on Ice: Frozen, and the tickets for this show are likely to sell fast.
There are various ticket prices and various vendors to choose from on the website. The closer the seats will be to the stage, the higher the price is going to be. You can get more information on the show and seating from the official website of TicketFront.com
About TicketFront.com
TicketFront brings you the best seats in town at affordable and discounted prices. They provide concertgoers, sports enthusiasts, visitors coming to Las Vegas, and drama lovers with excellent deals on tickets. They provide tickets for Disney on Ice .
You can contact them or go on their site to get the latest updates on events such as live musical performance, shows in Las Vegas, theatrical performances, and sporting events. Their online services are available 24/7 and you can purchase tickets on your own time.
TicketFront.com currently has 4.2 million entertainment listings making it the ultimate and most convenient source for purchasing tickets. On their site, they offer tickets sold by brokers and ticket exchangers located across the globe. Through their site, they provide customers with ease of access aiding them in their search.