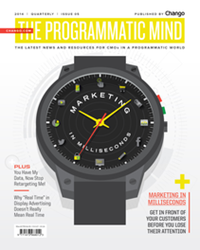 Chango zigs as its competitors zag.
New York, NY (PRWEB) June 23, 2014
Chango, a programmatic advertising platform, today published the latest edition of The Programmatic Mind, a unique magazine of news, opinion and information for CMOs operating in a programmatic world.
The Q2, 2014 edition includes the results of Chango's State of the Industry survey on retargeting, practical advice on attribution marketing, and interviews with industry thought leaders Professor Anindya Ghose from New York University's Stern School of Business and Econsultancy's Stefan Tornquist. The magazine also takes a look at digital culture with guidance on living life in the "fast lane" and guidance on determining if your approach to marketing is more Walt Disney or Steve Jobs.
The Programmatic Mind is receiving attention in digital circles for both the quality of its content as well as the contrarian approach of a digital company like Chango investing in a high-quality, traditional print magazine to promote the virtues of programmatic marketing. As The Guardian noted in a recent article, "Chango zigs as its competitors zag."
"Readership of The Programmatic Mind has grown six-fold since our first issue," said Ben Plomion, vice president of marketing at Chango. "Programmatic marketing is a hot topic and marketers need to know its potential and possible pitfalls. Our goal was to create a trusted resource and the magazine's growth tells me we are succeeding."
You can register for a free subscription to the print edition of The Programmatic Mind at http://www.chango.com/resources/magazine/subscribe?utm=press . The current and past editions can be downloaded at http://www.chango.com/resources/magazine/marketing-in-milliseconds?utm=press#download.
About Chango
Chango is a programmatic advertising platform that connects marketers with their target audience in real time across display, social, mobile, & video. The company's unique live-profile technology makes intent data available within milliseconds to help clients efficiently acquire new customers, retarget site visitors or build brand awareness. Chango has more than a 90% client retention rate from Fortune 500 brands and companies such as eBay, LEGO, Clorox, Lowe's and Gilt. To find out more, visit http://www.chango.com.