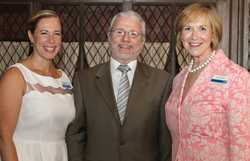 Purchase, NY (PRWEB) June 20, 2014
More than 50 powerful female community leaders attended United Way of Westchester and Putnam's (UWWP) Women's Leadership Council networking event on Thursday, June 18. Both current and prospective council members joined together as like-minded businesswomen and leaders to learn how the Women's Leadership Council is changing the lives of women in poverty. The event was generously sponsored and hosted by Manhattanville College School of Business in historic Reid Castle.
The mission of UWWP's Women's Leadership Council, which launched in December 2013 as part of a national United Way movement, is to harness leadership and philanthropy as agents of change to promote financial self-sufficiency, education, and health among women and their families. The council engages its members in philanthropy and volunteerism through two compelling United Way initiatives: "Teach Me to Fish," which gives underemployed adults job training, work skills coaching, and professional opportunities, and "Smart Start," which helps at-risk elementary school children to stay engaged in school through academic support.
"When you are investing in saving a life trajectory, you are strengthening a community," said Alana Sweeny, president and CEO of UWWP.
The event acknowledged the 48 current founding members of the Women's Leadership Council, whose dedication to the community has already provided countless children and women with educational opportunities and tools for empowerment. "We are exceedingly appreciative and proud of the fact that we are able to have 48 amazing women join us in this mission," said Alyzza Ozer, UWWP senior vice president of resource development and community engagement. "It just shows what women are capable of doing when we mobilize and work together."
Dr. Anthony Davidson, dean of Manhattanville College School of Business, thanked the United Way for the wonderful work they do in enhancing women's causes through the Women's Leadership Council. "Everybody talks about the need for a mentor, and that's what's happening in the room today," Davidson said. "The Women's Leadership Council has made important strides in deepening the understanding of women's issues, and I look forward to working closely with the council as we launch our Executive Leadership and Development Center for Women in the fall."
June 30 is the last opportunity to become a founding member of UWWP's Women's Leadership Council. To join, visit http://www.uwwp.org/wlc.shtml or contact Margaret Tramontine at 914-997-6700 x737.
About United Way of Westchester and Putnam:
For the past 50 years, United Way of Westchester and Putnam has operated with the fundamental belief that all people deserve a quality education, enough income to support a family, and opportunities for a healthy lifestyle. United Way works with agency partners, government, businesses and community leaders to solve problems that are too complex for any one entity alone. All contributions go toward improving the education, income, and health of the children, youth and families throughout Westchester and Putnam. United Way's Hudson Valley Region 2-1-1, covering Westchester and Putnam as well as Dutchess, Orange, Rockland, Sullivan and Ulster counties, answers up to 500 calls and 1,000 online inquiries per day ranging from tax, heating, and mortgage questions to childcare, basic needs, natural disaster and crisis calls. United Way of Westchester and Putnam is at 336 Central Park Ave., White Plains, NY 10606. They can be reached at 914-997-6700 or by visiting http://www.uwwp.org. Follow United Way on Facebook (http://www.facebook.com/UnitedWayWP) and Twitter (@UnitedWayWP) for the latest news and updates.