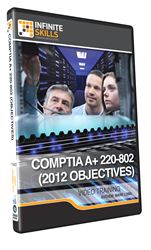 Learn CompTIA A+ 220-802 (2012 Objectives) at your own speed.
(PRWEB) June 21, 2014
Software training firm Infinite Skills Inc. this week released its Comp TIA A+ 220-802 (2012 Objectives) Tutorial, a certification preparation course covering one of two required exams for CompTIA's entry-level certification.
CompTIA is a non-profit technology and philanthropy organization, providing training and certification for potential technology employees. In 2007, its certifications became recognized by the American National Standards Institute.
Infinite Skills' CompTIA A+ 220-802 (2012 Objectives) Training Course provides a detailed and comprehensive guide to the second of two exams for A+ certification, which is focused on learning and maintaining various Windows operating systems.
The course is available bundled with the first course, CompTIA A+ 220-801 (2012 Objectives), at a discounted rate for both courses.
CompTIA A+ 220-802 (2012 Objectives) Video Tutorial - Streaming
Course author Mark Long is a trainer, consultant, and technical writer, specializing in information technology. He has worked in IT for more than 30 years, with 18 years at BellSouth Telecommunications, where he was as a trainer, developer, network architect, and data security specialist.
Following a course introduction and an overview of A+ certification, Long begins by overviewing the operating systems covered on the exam, ranging from Windows XP to Windows 7, taking time to cover the most important variations.
The course then dives in to critical content with chapters looking at Windows installation, using Windows command line tools, and administrative tools.
Other key topics include learning Windows control panel utilities, configuring networking, sharing resources, and an introduction to issues in basic security.
"In this course, we'll go step-by-step through all CompTIA's published objectives for this exam, " Long explains. "We'll talk primarily about the three Windows systems, mastering the most important features."
Free demo videos and a full list of course contents can be found on the CompTIA A+ 220-802 (2012 Objectives) Tutorial page of the Infinite Skills website:
http://www.infiniteskills.com/training/comptia-a-plus-220-802-2012-objectives.html
Infinite Skills offers its CompTIA A+ 220-802 (2012 Objectives) Training Course Training Video either as a DVD or a direct download from the company website at a retail price of $99.95. A bundle is also available containing courses for both CompTIA A+ exams at a discounted rate.
Though the compatibility of programs varies, all Infinite Skills titles and formats are compatible with both Mac and Windows operating systems, and shipping is available around the globe. Additionally, Infinite Skills tutorials are supported by project files which correspond to examples in the videos.
About Infinite Skills Inc.
A leader in the field of software training, Infinite Skills designs its courses on a task-oriented model, teaching complex skills by providing hands-on examples and guiding users as they carry out essential functions. Infinite Skills offers a wide range of software titles available as DVDs, digital downloads, and in iPad editions. Infinite Skills now offers a subscription service, providing access to all its training content for a monthly fee, keeping with company's aim of delivering professional training to customers anywhere they want to learn.