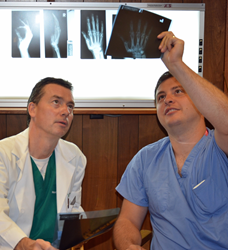 Referral to a hand surgeon within a week of injury is appropriate for any laceration with loss of sensation, function, or movement.
Santa Rosa, CA (PRWEB) June 22, 2014
With the recent addition of Dominic J. Mintalucci, MD, to Santa Rosa Orthopaedics (SRO), the practice's Hand Center has made a great impact on the quality and accessibility of hand and upper extremity care in the Northern California Region.
Wrist, hand and finger injuries account for 11.6% of all traumatic injuries treated in U.S. emergency rooms, making hand-related injuries the most common type of trauma in emergency departments throughout the nation. While demand for expert hand surgeons remains exceedingly high, the percentage of U.S. surgeons choosing to pursue hand and upper extremity fellowships continues to decline. The Hand Center at SRO was developed as a response to a lack of local treatments for a rising national health concern. Now with two fellowship-trained orthopedic hand surgeons, the Hand Center ensures that Sonoma County patients with hand and upper extremity maladies need not travel out of the area or wait excessive amounts of time to receive surgical care from a leading hand specialist.
Orthopedic hand surgeons Kai-Uwe Mazur, MD, and Dominic J. Mintalucci, MD, operate the Hand Center at Santa Rosa Orthopaedics (SRO), a local center of excellence offering state-of-the-art hand and upper extremity care, as well as complex acute trauma reconstruction, posttraumatic reconstruction, treatment of sports and degenerative disorders of the upper extremity, and complex wrist and elbow reconstruction.
Dr. Mazur first came to practice at SRO in 2009, and it didn't take long for him to establish his reputation as one of the elite, leading hand and upper extremity specialists in the North Bay. In addition to his private practice at SRO, Dr. Mazur has served as the Senior Trauma Consultant at Santa Rosa Memorial Hospital (Level 2 Trauma Center) treating severe hand, wrist and elbow injuries, as well as traumatic injuries to peripheral nerves. Prior to Dr. Mintalucci's joining the Hand Center's care team, Dr. Mazur managed a heavy caseload both in the clinic and in the operating room. As one of the most talented surgeons in the region, Dr. Mazur receives a constant flow of referrals for complicated cases that require specialty surgical care. SRO sought out another hand surgeon skilled enough to work alongside Dr. Mazur and increase accessibility for Sonoma County patients. They found that surgeon in Dr. Mintalucci.
Dr. Mazur explains, "Dr. Mintalucci is an incredibly talented surgeon, and his knowledge of the latest available surgical techniques would impress anyone. There's no debating the high demand for skilled hand surgeons in our area, and the Hand Center at SRO is stronger than ever with Dr. Mintalucci on board."
Dr. Mintalucci joined the Hand Center in 2013 and has rapidly become an integral member of the entire SRO practice. Dr. Mintalucci completed his orthopedic surgical residency at Monmouth Medical Center, and he further pursued his subspecialty training in Rothman Institute's Hand and Upper Extremity Surgery fellowship. Dr. Mintalucci actively attends orthopedic courses and conferences to keep up with the latest available and most effective techniques in his field, such as minimally invasive procedures, and incorporates them into his practice. Between the two of them, Drs. Mazur and Mintalucci make up the only California hand center north of San Francisco with orthopedic surgeons who have completed fully accredited ACGME hand surgical fellowships.
As Americans age, maintain active lifestyles, and increase their use of mobile devices and computers, there is a significant increase in hand injuries and chronic conditions. Physicians without specialty training in hand care often have a difficult time identifying which hand injuries and conditions require specialized treatment, and early identification is an essential part of achieving the best possible patient outcomes. With Drs. Mazur and Mintalucci at SRO's Hand Center, Sonoma County physicians can refer patients to a local facility with complete confidence that they will get the expert care they need.
Dr. Mazur explains, "Referral to a hand surgeon within a week of injury is appropriate for any laceration with loss of sensation, function, or movement. Displaced fractures should also be seen by a hand surgeon. Other symptoms warranting referral to a hand specialist include pain or numbness that persists or progresses, any noticeable deformity, lack of mobility or decrease in sensation, or compromised vascularity."
One may question the amount of difference one orthopedic practice can really make, but the reality is that the Hand Center offers much more than two leading experts. Patients of the Hand Center at SRO also receive the benefit of a state-of-the-art, 10,000 square foot Sports Medicine and Rehabilitation Center with a comprehensive hand and occupational therapy staff on site. This model of orthopedic care incorporates a collaborative approach into caring for patients to optimize patient outcomes. Efficient communication between a patient's certified hand therapist and surgeon enables a superior diagnostic process, as well as carefully monitored post-surgical rehabilitation and recovery.
Also, when patients first arrive at SRO, whether referred from a hospital after a traumatic accident or from their primary care physicians, their Hand Center physicians provide thorough examination to determine if surgery is even necessary. While surgery promises the best outcomes for patients with substantial hand problems, non-surgical treatments are always considered first. The Hand Center surgeons may recommend that patients try a physical therapy regiment before opting for surgery, and they have the clinical advantage of monitoring patient progress by collaborating with their patients' hand therapists at SRO.
In the Fall of 2014, SRO's Stony Point office including, SRO surgeons,Sports Medicine and Rehabilitation Center, and Hand Center will be moving to an even more spacious, 11,000 square-foot space in the medical office building adjacent to the new Sutter Hospital. SRO is currently working with architects to develop the new state-of-the-art occupational/hand therapy center. In the new office, patients will see their physicians in private, first-rate exam rooms without having to travel elsewhere for their physical therapy. In the same medical office building, the bottom floor will house the outpatient surgery center. For all orthopedic surgeries that require hospital stay, SRO physicians are very excited to be in such close proximity to the hospital's brand new orthopedic operating room, equipped with the latest technological advancements in surgical medicine. The new Sutter hospital also boasts all-private patient rooms and 24-hour food service.
Santa Rosa Orthopaedics offers two convenient locations for patients at 1405 Montgomery Drive and 131B Stony Circle, Suite 2000. The Stony Circle office will be closing when the new office opens. For more information on Dr. Mazur, Dr. Mintalucci, and the Hand Center at SRO, please visit our website or call (707) 546-1922 to schedule an appointment.
---
1) Lloyd, Julie. "California Improves Support for Emergency Patients, Still Receives a C-." . The American College of Emergency Physicians, 16 Jan. 2014. Web. 12 June 2014. http://www.emreportcard.org/Content.aspx?id=428.
2) Anthony, Joshua, Hunter Rooks, Kevin Sexton, MD, R. Bruce Shack, MD, and Wesley Thayer, MD, PhD. "The Correlation of Traumatic Hand Injury with Distant to Treatment". The American Association of Hand Surgery, 2014. Web. 12 June 2014. http://meeting.handsurgery.org/files/2014/presentations/P73.pdf.