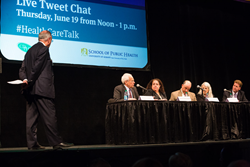 Albany, NY (PRWEB) June 23, 2014
A lively debate in Albany as business, policy, and health care professionals gathered to discuss the future of health care in the Capital Region. The event, which was co-sponsored by CDPHP and the University at Albany School of Public Health, featured a keynote address by leading health policy expert Dr. Donald Berwick.
"Never before has there been a better time for health care professionals to lead change," said Berwick, adding that local leaders need to stop looking to Washington for answers.
Berwick, who spent 17 months as the acting administrator for the Centers for Medicare and Medicaid Services (CMS), also spoke of waste in the American health care system, noting that overtreatment, failure to coordinate care, and excessive pricing account for 34 percent of all health care spending.
The keynote address was followed by a spirited panel discussion led by leading health and business professionals, including:

Donna Frescatore, executive director, NY State of Health
David H. Shippee, president and CEO, Whitney M. Young, Jr. Health Services
Sarah Schoof, director of medical services at the Capital City Rescue Mission
Mark Eagan, president and CEO, Albany-Colonie Regional Chamber
The panel discussion was moderated by CDPHP president and CEO, Dr. John D. Bennett, who addressed the crowd saying, "I cannot think of a more appropriate time for this discussion. Just seven months following the implementation of the Affordable Care Act, we all want to know, is this law working?"
The event was the third in a series of forums hosted by CDPHP and the School of Public Health addressing the issues of quality, cost, and access to health care.
Philip C. Nasca, PhD, dean of the School of Public Health, thanked the audience for its interest in and commitment to the series, noting that many of the participants attended all three events. "We are pleased to have convened this series and to have featured not only international experts, but also leaders from our region representing hospitals, health plans, physicians, community organizations, business leaders, and government institutions."
The evening ended with a call to action by Bennett, who urged participants to come together to create meaningful community health planning. He will work with the administration and faculty of the School of Public Health to convene a working group of community representatives to discuss ideas and formulate a plan for the future of health care delivery in our region.
About CDPHP®
Established in 1984, CDPHP is a physician-founded, member-focused and community-based not-for-profit health plan that offers high-quality affordable health insurance plans to members in 24 counties throughout New York. CDPHP is also on Facebook, Twitter, LinkedIn and Pinterest.
About The University at Albany School of Public Health
The School of Public Health is accredited by the Council on Education for Public Health and offers a research-oriented opportunity for faculty, and a valuable professional experience for students. The school is a partnership between the NYS Department of Health and the University at Albany. The school is also affiliated with Albany Medical Center and Bassett Healthcare.
###