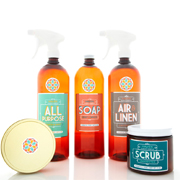 "One picture speaks 1,000 words, so an effective logo and label are pivotal for communicating a brand message," says Julie Waldrop, Production Manager at Lightning Labels.
Denver, CO (PRWEB) July 01, 2014
Product branding is a pivotal element that every manufacturer must get right if they want their goods to sell in the marketplace. Several studies over the years have noted that a strong brand can bolster product recognition and influence purchase decisions significantly, helping savvy companies to win over sales. The opposite is also true - poor branding can reduce recognition and purchase intent. When it comes to household products, branding is particularly important, as consumers tend to attach themselves to particular products and companies and remain loyal to them.
Take, for example, one report conducted by Mountainview Learning. The researcher found that when product logos were smaller, people looked at them for less time and were much slower to recognize the key brand. When a full-sized logo and reduced version were shown to customers, purchase intent was lower for the smaller logo. This just goes to show how important clear and concise branding is to generating sales.
By working with Lightning Labels, a custom label and sticker printing leader, companies can produce a vibrant product label of any size that will help manufacturers better create a recognizable and attractive brand.
"For businesses looking to reach a new audience and promote their brands, product labels are the best place to start," says Julie Waldrop, Production Manager at Lightning Labels. "One picture speaks 1,000 words, so an effective logo and label are pivotal for communicating a brand message - this is particularly true for household products."
Product Labels for Household Items
Manufacturers of household items, such as soaps and floor wax, will need to carefully consider their product label design. With many people looking to do some summer cleaning, now is the perfect time to engage prospective customers, and labels can be an effective tool to do so.
Product labels should be crafted to capture the interest of potential buyers. Companies can do this by promoting the benefits of using their own products over the competitors'. For example, a cleaner could boast about how it gets the job done faster than the leading brand, so people can spend more time with their families or basking in the summer sun.
At the same time, when it comes to household cleaners, marketing isn't the only thing brands need to worry about. Information is also important, ranging from usage instructions to ingredients. People may not want to purchase products that harm the environment, so if the company in question manufactures an eco-friendly product, the label is the best place to convey that message to prospects.
Finally, if manufacturers produce a summer-themed line of items, they can use labels to really attract customers to these products. By working with a professional custom label printing company, companies can get the perfect summertime label quickly and in time for seasonal sales.
Labeling Strategies for Brands
Although labeling strategies will generally change from brand to brand depending on the item they are trying to sell and the target audience they are attempting to reach, the one universal fact is that labels must be professional. A shoddy looking label printed on cheap paper with a weak adhesive makes the company in question look unprofessional. This is why organizations should turn to Lightning Labels for their high-quality label printing needs.
Lightning Labels is now offering 15 percent off label orders through July 7, 2014. Use promo code USA14 at checkout. Valid on new and reorders. Maximum discount is $1,000. Free ground shipping applies to orders placed online only and shipped within the U.S. and Canada. This offer cannot be combined with any other offers or promotions. Visit Lightning Labels.com for more information or updated promotions.
About Lightning Labels:
Lightning Labels uses state-of-the-art printing technology to provide affordable, full-color custom labels and custom stickers of all shapes and sizes. From small orders for individuals, to the bulk needs of big businesses, Lightning Labels is equipped to handle and fulfill custom label and sticker projects of all types. Best of all, like the name implies, Lightning Labels provides a quick turnaround to every customers' labeling needs. Uses for Lightning Labels' custom product labels and custom stickers include food packaging and organic food labels, wine and beverage labels, bath and body labels, and nutraceutical products, such as vitamins, essentials oils, and herbal remedies, as well as event stickers, adhesive window stickers and more. Lightning Labels strongly supports the development of environmentally friendly printing materials and carries EarthFirst PLA, a new kind of green label material made from corn instead of petroleum. While operating as a high-tech printer, Lighting Labels prides itself on its personalized customer service. Lightning Labels provides one stop shopping for all of your custom label needs. For more information and to place orders online, visit LightningLabels.com. For the latest in packaging news and labeling promotional offers, find Lightning Labels on Twitter (@LightningLabels), Facebook, Pinterest, Google and LinkedIn.