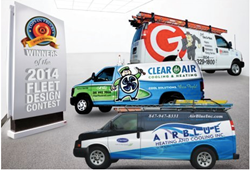 Friendswood, TX (PRWEB) June 22, 2014
Graphic D-Signs, Inc., an advertising agency based in New Jersey, recently won top honors in HVACR Business Magazine's "Tops in Trucks" Fleet Branding contest.
The agency's truck wrap design for client Clear the Air, a Texas-based HVAC company, received the award this month in the annual competition.
Graphic D-Signs, Inc. worked with Clear the Air over a several month term for a comprehensive brand identity overhaul. The project included a new logo design, website design and development, and other marketing collateral designs.
The HVAC business, both commercial and consumer, is a close contest. In recent years, many standout companies have been rebranding their business in order to break away from the competition.
The advertising agency, which specializes exclusively in the small business sector, encourages a more comprehensive view on marketing and advertising. The majority of their work centers on complete identity overhauls, focusing on the logo design as the brand hub. From there, the agency focuses on completely revamping traditional channels such as the website, stationery, sales materials, and marketing collateral.
The award-winning design team is continuously creating identities that win big. Most recently, the agency won top honors in HVACR Business Magazine's annual Tops In Trucks Fleet Branding Contest for their work on Clear the Air's truck wrap design.
As HVAC business owners continue to search for new ways to get ahead of the competition, they should consider the power of a complete brand overhaul. For those that have gone that path, the result is an almost overnight transformation in business image.