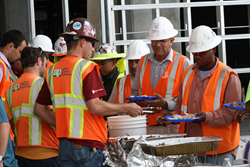 Richardson, TX (PRWEB) June 20, 2014
On Friday, June 20, Adolfson & Peterson Construction celebrated the 'topping out' of the new $90 million Forest Park Medical Center in Austin, TX. Adolfson & Peterson Construction is serving as the general contractor for the new state-of-the art hospital, which is being developed by Neal Richards Group.
The topping out ceremony officially commemorates reaching the final height of the new building, which is marked at 64 ft. As part of the celebration, Brian Jarrett, Director with Neal Richards Group, smoked 190 pounds of brisket and pork shoulder, providing a barbeque lunch for the 250 employees on-site.
Designed by Page, the 145,000-square-foot, four-story hospital will feature 46 private inpatient rooms, including 12 family suites, six intensive care rooms and 10 fully integrated operating suites. Also part of the development is an 80,000-square-foot medical office building and an 181,000-square-foot garage.
"Adolfson & Peterson is proud to partner with Neal Richards Group and Forest Park Medical Center on this important project," said Corbett Nichter, Senior Vice President for Adolfson & Peterson Construction. "This is our sixth project with Neal Richards Group and Forest Park Medical Center and, once again, the level of collaboration and commitment has been exceptional, allowing A&P to stay ahead of schedule and on budget."
This project is being built on an 8.5 acre site inside of a 59-acre master campus located near state highway 45 and La Frontera Boulevard in Williamson County.
"We are excited to continue our partnership with Adolfson & Peterson and Neal Richards Group with the expansion of the Forest Park system to Austin," said Dr. Robert Wyatt, founding physician and managing partner. "As a physician majority-owned and governed hospital, we look forward to bringing the latest and most effective technology in medical care to the Austin community where we can also provide outstanding, cost-effective care to patients."
Construction began in the 4th quarter of 2013 with completion scheduled for 1st quarter 2015.
About Adolfson & Peterson Construction
Adolfson & Peterson Construction is a U.S.-based, privately held firm that is consistently ranked among the top 50 construction managers and general contractors in the nation. Founded in 1946, the company has built longstanding commitments to the regions in which it operates and is known nationally for its innovative and collaborative approaches within the building industry. Adolfson & Peterson Construction serves the education, multifamily, healthcare, energy, commercial, municipal and senior living market segments from its offices in Charlotte, Dallas, Denver, Los Angeles, Minneapolis, Phoenix, Portland and Tacoma. For more information, visit http://www.a-p.com and follow us on Facebook, LinkedIn and Twitter.
About Neal Richards Group
Neal Richards Group (NRG) is a privately held, Dallas based, real estate services firm specializing in development, brokerage, and project management consulting for a diverse mix of end-users.
Since 2008, NRG has systematically developed nearly a half a billion dollars of high quality, class A, award-winning, healthcare and mixed-use assets. The firm currently has another half a billion dollars in the development pipeline. During this same period, Neal Richards Group has brokered over $30 million in leasing and sales transactions. Neal Richards Group is currently active in North Texas, San Antonio, and Austin, with growth plans across multiple states, offering diverse real estate opportunities.
Neal Richards Group was co-founded in 2008 by CEO Derrick Evers.
Please visit our website http://www.nealrichardsgroup.com
About Forest Park Medical Center
Forest Park Medical Center, a physician-owned hospital system, currently operates state-of-the-art medical facilities in Dallas, Frisco and Southlake, Texas focused on providing unsurpassed surgical specialty care. By focusing on specific key areas of surgery and the latest and most effective technology in medical care, Forest Park offers unmatched high-quality, cost effective patient care. Texas campuses currently in development include: Fort Worth, San Antonio, Austin. For more information, visit http://www.forestparkmc.com.