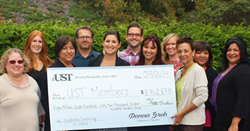 One of the most exciting times of the year at UST is when we get to tell members that they will be receiving money back
Santa Barbara, CA (PRWEB) July 08, 2014
Over the next several weeks 521 nonprofit members of the Unemployment Services Trust (UST) will receive a combined $8,762,873 in cash back. In total this brings participant savings over the past year to more than $43 million in claims savings, audited state returns and cash back.
"One of the most exciting times of the year at UST is when we get to tell members that they will be receiving money back," said Donna Groh, Executive Director of UST. "For members that elect to take the cash back as a check this money often helps them expand important initiatives. And, learning the exact impact that each dollar we're able to save and return, to nonprofit employers, helps motivate us to find even more ways to lower unemployment costs across the board for our members."
The UST program, which helps nonprofits with 10 or more employees control unemployment-related HR costs, includes an annual review of its 2,000+ nonprofit accounts–using an advanced actuarial model. Unlike the state unemployment tax system or some private insurance where taxes and premiums cannot be refunded (even when benefits paid out are far below what the employer paid in), UST instead allows for cash back when an organization has a positive unemployment claim experience.
UST members whose claims were lower than anticipated and that are well-funded for future claims, will receive a direct refund or credit to their nonprofit organization.
"Hearing the individual stories about what members plan to do with their cash back is extremely rewarding and allows us to better emphasize the mission-driven impact of becoming part of the UST program," seconded Adam Thorn, Director of Operations.
By aiming to ensure that a nonprofit is properly reserved for unemployment claims costs, but not holding excess funds beyond the necessary cushion for future claims, UST helps serve its mission of "Saving money for nonprofits in order to advance their missions."
To learn more about the UST program for 501(c)(3) employers, visit http://www.ChooseUST.org or call (888) 249-4788 to speak with an Unemployment Cost Advisor.
About UST:
Founded by nonprofits, for nonprofits, UST is the largest unemployment trust in the nation, providing nonprofit organizations with 10 or more employees a safe, cost-effective alternative to paying state unemployment taxes. UST has partnered with 80 state and national nonprofit-based associations to teach their members about their unemployment insurance alternatives. Visit http://www.ChooseUST.org to learn more.