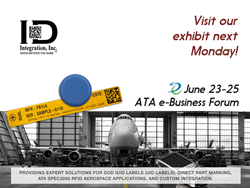 Mukilteo, WA (PRWEB) June 20, 2014
Radio Frequency Identification Tags, or RFID tags, have become the standard for smart manufacturing of airplane parts and equipment. In fact, the Air Transport Association (ATA) established specific requirements for aerospace suppliers to meet RFID tagging requirements. Complying with the ATA SPEC 2000 stipulations is now the gateway to smart manufacturing—reducing costs through automating the tracking of assets and supply chain control. This process is streamlined because the EPC Class1Gen2 data syntax, unique serial number, and additional data is included with the high memory RFID tags. To see a demonstration of ID Integration's solutions to SPEC 2000 RFID compliancy, attend the ATA e-Business Forum on Monday, June 23rd, in San Antonio, Texas.
ID Integration, Inc., will be exhibiting at this forum,. Cutting-edge products, including MAINtag RFID tags---tags that allow for easy and quick SPEC2000 Birth Records creation--will also be revealed at the Forum. And, just added to the Forum agenda is a demonstration of the brand new Zortag solution, which permits easy verification of parts and products to ensure authenticity. A full-range of smart manufacturing solutions for reaching and maintaining ATA RFID compliancy will be showcased at the ATA e-Business Forum.
Data-rich RFID labeling, scanning, and tracking is the future of ATA-compliant smart manufacturing, because SPEC 2000 RFID birth records create a master of traceability across the lifetime of any part. ID Integration has the experience to introduce this new technology as the provider of custom solutions to the aerospace industry for over 20 years. They are considered the leading systems integrator for SPEC2000 part marking and RFID tagging that must meet the strict requirements stipulated by the ATA. Their clients include Boeing, Lockheed Martin, GE Aircraft Engines, and many other notable airplane part manufacturers.
Your chance to see ID Integration's aerospace RFID technology in action is at the ATA e-Business Forum , this June 23 - 25, at the Grand Hyatt San Antonio, 600 E. Market Street, San Antonio, TX. Give them a call at (425) 438-2533 or send an email to info(at)id-integration(dot)com for details about the ATA e-Business Forum. Receive the most up-to-date information about this exciting event on their Facebook page. To learn more about ATA Spec 2000 RFID compliance, visit ID-Integration.com.