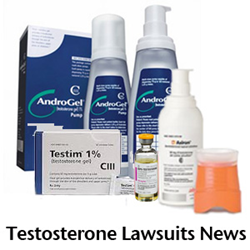 If your believe you have suffered cardiovascular problems due to Androgel, Testim, Androderm or other Testosterone Treatment Drugs Call Wright & Schulte today for a Free Legal Evaluation at 1-800-399-0795 or by visiting www.yourlegalhelp.com
Columbus, OH (PRWEB) June 20, 2014
As testosterone treatment lawsuits move forward in federal litigation in Illinois, Wright & Schulte LLC has learned that the U.S. Food & Drug Administration (FDA) is now requiring manufacturers of testosterone therapy products to expand their drug labels to include a general warning about the risk of blood clots in veins. Wright & Schulte also points out that the FDA's announcement comes six months after the federal agency launched an investigation into the safety of all testosterone treatment drugs after discovering men who take the testosterone treatment drugs are at a potential risk of stroke, heart attack and even death. There are currently more than 100 testosterone lawsuits against manufacturers of AndroGel, Androderm, Testim, and Depo pending in the U.S. District Court of Illinois. (In Re: Testosterone Products Liability Litigation, No. 42, JPML)(MDL 2545)
The firm continues to speak with men who believe they have suffered cardiovascular side-effects from low testosterone therapy drugs such as AndroGel, Androderm and Testim. To speak with a testosterone therapy lawsuit attorney to receive a free consultation contact Wright & Schulte LLC at 1-800-399-0795 or visit http://www.yourlegalhelp.com. You can also follow all the latest lawsuit news on our Facebook page or Twitter feed.
According to the FDA, testosterone manufacturers already include a general warning on their labels about the risk of blood clots in the veins as a consequence of polycythemia, an abnormal increase in the number of red blood cells that sometimes occurs with testosterone treatment. The federal agency is requiring the labeling change because there have been post-market reports of venous blood clots that are not related to polycythemia. The FDA explained that changing the drug labeling of all low testosterone treatment medication will provide a more general warning about venous blood clots and "ensure this risk is described consistently in the labeling of all approved testosterone products." According to the FDA, the new warning is unrelated to its ongoing investigation of the potential for testosterone products to place men at risk for heart attack, stroke or death. The federal regulator said these cardiovascular events are related to blood clots in the arteries.
[fda.gov/Drugs/DrugSafety/ucm401746.htm, June 19, 2014]
Wright & Schulte LLC notes this is the second major announcement the FDA made this year regarding testosterone replacement therapy drugs prescribed to men who lack or have low testosterone levels in connection with a medical condition. In its January 31, safety alert, the FDA cited two studies that prompted its review of the drugs that treat hypogonadism (low testosterone). A study published in the PLOS One Journal found that men over 65 and younger men with pre-existing heart disease who were prescribed testosterone treatment medication were at a greater risk of having a heart attack within the first 90 days after taking the first prescription. The second study cited by the FDA was published in the November 2013 Journal of the American Medication Association. The study found that older men who had an underlying cardiovascular disease and took low testosterone treatment had a 30 percent increased risk of having a stroke, heart attack or death compared to men who did not take the medication. [fda.gov/Drugs/DrugSafety/ucm383904.htm, January 31, 2014]
[jama.jamanetwork.com/article.aspx?articleid=1764051, November 6, 2013]
[plosone.org/article/info%3Adoi%2F10.1371%2Fjournal.pone.0085805, January 29, 2014]
Court records indicate that the FDA's announcement In January led plaintiffs in pending testosterone complaints to ask a federal judicial panel to transfer all testosterone treatment lawsuits to one court. (In Re: Testosterone Products Liability Litigation, No. 42, JPML) The judicial panel granted the request by establishing an industry-wide consolidation of all federally filed testosterone lawsuits. As a result, 45 complaints were centralized in the U.S. District Court, Northern District of Illinois where Judge Matthew F. Kennelly will preside over the multidistrict litigation. The judicial panel stated its transfer order that the move was made since all of the lawsuits involve plaintiffs or their survivors who took one or more testosterone replacement therapies and allege that the medication caused injuries, including heart attack, stroke, deep vein thrombosis, and pulmonary embolism. The panel further stated that the testosterone complaints will share factual questions about the cause of the injuries, the background science behind the role of testosterone in the aging body, and possibly review the studies that prompted the FDA's investigation as well as common regulatory issues in light of the FDA's January announcement.
[jpml.uscourts.gov/sites/jpml/files/MDL-2545-Initial_Transfer-05-14.pdf, June 6, 2014]
The personal injury attorneys at Wright & Schulte LLC are representing plaintiffs in the federal testosterone litigation. If you or someone you love used testosterone replacement therapy and suffered life-threatening side effects during the treatment, you may be eligible to file your own testosterone complaint. To schedule a free legal consultation with our attorneys, contact Wright & Schulte LLC by visiting yourlegalhelp.com or by calling 1-800-399-0795.
About Wright & Schulte LLC
Wright & Schulte LLC, an experienced personal injury firm, is dedicated to the belief that America's legal system should work for the people. Every day, the attorneys of Wright & Schulte LLC stand up for the rights of people who have been injured or wronged and fight tirelessly to ensure that even the world's most powerful corporations take responsibility for their actions. If you're looking for a law firm that will guarantee the aggressive and personal representation you deserve, please do not hesitate to contact Wright & Schulte LLC today. Free testosterone lawsuit case evaluations are available through yourlegalhelp.com or by calling 1-800-399-0795.
Contact:
Wright & Schulte LLC
812 East National Road
Vandalia, Ohio 45377
1-800-399-0795
http://www.yourlegalhelp.com
Like us on Facebook
Follow us on Twitter
Join us on Google+