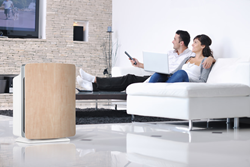 Our goal is to give customers pure, healthy air in all spaces of the home.
Austin, TX (PRWEB) July 15, 2014
Similar to pollutants in your water, contaminants in your air cannot always be seen, so the average person rarely recognizes them as a problem. Just as water filtration has become a new standard for many homes, air purifiers are steadily becoming a staple appliance and many are experiencing the benefits of purified indoor air for the first time. Alen Corporation, an Austin, TX-based air purification company, is making this the norm with the Alen BreatheSmart FIT50 HEPA Air Purifier, the newest addition to the BreatheSmart series. A more compact, quieter version of the original BreatheSmart, the FIT50 Air Purifier provides pure, healthy indoor air with smart, easy-to-use features, a variety of filter choices, and designer panel options that make it customizable to an individual's interior decor.
"During our research we heard customers say over and over again how difficult air purifiers can be to use and how they don't like they way they look in their homes," says Mark Vander Berg, Alen Consumer Air Quality Advocate. "We built the original BreatheSmart to solve these problems, and the BreatheSmart FIT50 is no exception. It was designed with the same easy-to-use features, intuitive technologies and designer panel options, but now for smaller areas in the house." During product research, Vander Berg says customers had asked for an air purifier that performed as well as the BreatheSmart but for smaller spaces, such as bedrooms, nurseries or dens. "After we heard customers wanted this, we started developing the BreatheSmart FIT50 immediately. Our goal is to give customers pure, healthy air in all spaces of the home."
The BreatheSmart FIT50 utilizes SmartSensor technology which automatically detects pollutants in the air and intuitively adjusts purification levels to respond to the amount of air cleaning needed. With this, the right amount of air purification is always provided and the life of the air purifier filter is extended. Additionally, the BreatheSmart FIT50 can be ordered with one of Alen's unique designer panels options, allowing customers to personalize the air purifier with a color that matches their decor, and four different filter options are available to address a variety of concerns, such as: allergens and dust, smoke, pet and cooking odors, chemicals and bacteria. Finally, WhisperMax technology allows the BreatheSmart FIT50 to operate quietly, giving customers high levels of purified air without a lot of noise.
The original BreatheSmart, which covers up to 1100 sq ft, has been an Alen customer favorite since its launch in late 2012, with many noting its quiet and easy to use operation and powerful air filtration to be the most loved features. The BreatheSmart FIT50 Air Purifier will continue to provide the same great benefits providing coverage of up to 800 sq ft. Alen hopes the launch of this new product will demonstrate their dedication to smart technologies and user-friendly features.
The new Alen BreatheSmart FIT50 will be available for pre-orders mid-July with four filter options and designer panels available. You can learn about Alen's newest addition to the BreatheSmart series by visiting http://www.alencorp.com.
###
Alen Corporation
Located in Austin, TX, Alen designs high quality HEPA air purifiers and filters that improve indoor air quality and relieve symptoms associated with respiratory conditions. Alen cares deeply about people breathing purer indoor air and living a healthy life by offering products which provide pure air for a lifetime.