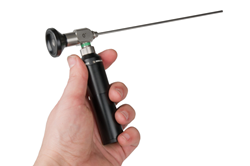 (PRWEB) June 23, 2014
Medit Inc., one of North America's most trusted online suppliers of endoscopy equipment, is proud to announce their new product SPARK XTR advanced LED Light Source. Regardless of any kinds of exams, this endoscope light handle offers excellent illumination and intuitive operation. Medical personnel can use SPARK XTR for endoscopy of interior of the body during diagnostic and surgical procedures. Due to the specially designed focus lens the light beam is focusing into one spot and provide a highly intense illumination.
The Spark is made out of high-grade aluminum and its extremely compact. The special body design protects this light source from overheating. The endoscope offers complete control over on and off button, changing the strobe frequency, smooth light intensity adjustment, which is especially important when the device is used on shiny, wet surfaces to avoid glare. The highly intense LED light is also energy efficient and has a much longer life span in comparison to metal halide lamps. It can be compatible with rigid and flexible endoscopes of different manufactures as it comes with a standard Storz connection, and has an Olympus compatible version.
All those characteristics make Spark XTR one of the most advanced and powerful endoscope light handles in the medical field.