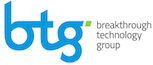 We start by creating a virtual domain (VDOM) for each customer to ensure complete isolation from other customers — beginning the very moment we stand up their managed private cloud, and extending through any of the services we deliver.
Morganville, NJ (PRWEB) June 25, 2014
Breakthrough Technology Group (http://www.btgroupinc.com) today reported that Edsouth Services increased its IT productivity by 60%, while eliminating 90% of its capital expenditures by deploying BTG's Managed Private Cloud Services.
Edsouth Services is a Knoxville, Tennessee based bank holding company with more than $2.8 billion in total assets and a current customer base of approximately 600,000. Edsouth Services was ranked by the American Banker in 2012 as the 33rd largest consumer loan portfolio holder of all U.S. bank holding companies.
Changes in government regulations and changes to its former data center provider required Edsouth Services to evaluate its options of external or internal data center capabilities. "We recognized that standing up a new data center in six months wasn't feasible, and we needed to quickly find a reliable data migration partner," says Jeff Gibbs, CIO of Edsouth Services.
After researching several outsourced data center providers, Edsouth Services, through a contract with AT&T's Network Integration Group, turned to Breakthrough Technology Group (BTG) for assistance. BTG is a leading provider of managed cloud and telecommunications solutions, and the highest-producing AT&T channel solutions partner in the United States.
The team at BTG worked with Edsouth to create a secure and robust managed private cloud environment based on a holistic approach to delivering technology services on a next generation architecture.
"What was especially comforting was the fact that operating our IT processes in BTG's SSAE-16-compliant data centers, which included full data and power redundancy plus end-to-end data encryption protection, gave us better data protection and availability than we had when we tried to manage all these processes ourselves," continued Gibbs.
After migrating Edsouth Services' legacy IT environment to BTG's state-of-the-art private cloud offering, BTG was able to turn 90% of Edsouth Services' CapEX expenses into OpEX, which contributed significantly to the return on investment Edsouth Services realized in less than 6 months.
Unlike many public cloud offerings that lack inherent flexibility and thereby prohibit integration, limit productivity, and stifle innovation, BTG provides customers with a very different experience that gives the concept of 'private cloud' a whole new meaning.
"We start by creating a virtual domain (VDOM) for each customer to ensure complete isolation from other customers — beginning the very moment we stand up their managed private cloud, and extending through any of the services we deliver," says BTG CEO, Jeff Kaplan. "From there, we can deliver Managed Virtual Machines, Managed Applications, Hosted Exchange Solutions, Managed Cloud Storage and Collaboration and Hosted Virtual Desktops."
"Because of the confidence we had in BTG's Tier-4 data centers, we decided to go all in with a VDI (virtual desktop infrastructure) solution based on the VMware Horizon platform," says Gibbs. "In addition to a fully managed VDI solution, BTG included hosting and server side application management, and they host our Active Directory and DataAnyplace solution for secure file-sharing and collaboration."
In addition to cost savings and productivity gain, Gibbs notes that, "Another huge benefit is that I no longer have to worry about managing a large IT staff. For example, when I need a new server, I simply provide BTG the system requirements and within 24 hours our new server is ready in their secure, private cloud data center."
The partnership between BTG and Edsouth exemplifies how a financial services institution can rely on a managed cloud and telecommunications provider to handle all of its IT needs allowing the company to stay focused on the core competencies of its business which in turn delivers a higher level of service to its customers.
To access the full Edsouth Services case study, please visit http://www.btgroupinc.com.
ABOUT BREAKTHROUGH TECHNOLOGY GROUP, LLC.
Breakthrough Technology Group (BTG) is a leading managed cloud and telecommunications solution provider, and highest revenue-producing AT&T Alliance Channel Solution Provider in 2010, 2011 and 2012. BTG solutions are purposely built on reliability, flexibility and scalability designed to deliver business value to customers while meeting their ever changing IT, telecom and managed cloud needs. Founded in 2007, BTG maintains a singular focus on supporting its SMB and enterprise customers, solving problems through the use of advanced technology and telecommunications. The inherent knowledge base of the Company's veteran team spans the entire IT landscape from cloud-based desktop and storage solutions, to remote monitoring and individual end-user IT support. With a hyper-focus on specific IT practice areas and a deep understanding of carrier networks, BTG has proven itself to be an unquestioned leader and industry pioneer.
For additional information, please visit http://www.BTGroupinc.com.