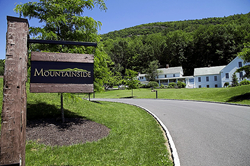 Our therapeutic interior and landscape designs aim to reduce anxiety, eliminate the stresses that can accompany illness, lower blood pressure, lessen pain, and enhance clients' natural process of self-healing.
Canaan, CT (PRWEB) June 24, 2014
Mountainside today announces the expansion of its services, now providing medically monitored detoxification for individuals entering into treatment for substance abuse. After 17 years of providing effective, comfortable, and compassionate treatment for addiction to alcohol, opiates, and other substances, this groundbreaking addition to our program will expand Mountainside's continuum of care to include first stage addiction treatment services along with its existing primary residential and extended care programs.
"Thousands of clients from across the nation have experienced our innovative and compassionate residential care, and the success of our clients is a strong testament to how effective our combination of evidence-based clinical treatment with holistic wellness therapies is," said Mountainside's new CEO Stephen Benson, who brings decades of client service experience from the hospitality industry to the treatment center.
Mountainside Detox is part of a new 52,000-square-foot building that will also include Mountainside's expanded Family Wellness Center and Outpatient Services. The state of the art building and campus leverage evidence-based environmental design to improve health outcomes for clients.
"Design elements like access to nature and abundant daylighting support our client-centered care delivery initiatives," said Benson. "Our therapeutic interior and landscape designs aim to reduce anxiety, eliminate the stresses that can accompany illness, lower blood pressure, lessen pain, and enhance clients' natural process of self-healing. We are always evaluating how we can enhance client experience, whether it's through positive distractions or clear pathways that encourage walking."
Mountainside's commitment to providing best in class service and highly individualized treatment translates to a boutique detox program. Mountainside Detox will incorporate evidenced-based pharmacological solutions and alternative therapies for complete, whole-person treatment. Along with comfortable medical solutions to match their detox needs, clients will receive 24-hour nursing care, psychiatric services, individual and group counseling, continuing care planning, and complementary therapies, including yoga and acupuncture.
"With the addition of this medical component, clients are now able to join us in the earliest stages of their recovery and advance seamlessly through each phase of treatment in our continuum of care," Benson said. "Our dedicated team of detox professionals has a passion for addiction treatment and use their expertise and skills to provide compassionate care to our clients."
To learn more about Mountainside's treatment programs for alcohol and drug abuse, visit http://www.Mountainside.com.
###
About Stephen Benson
Stephen Benson is the new CEO of Mountainside addiction treatment center. He joins Mountainside with more than 20 years in the high-end, luxury hospitality industry, where he has been recognized for creating superior customer service programs at both the Forbes Five Star and AAA Five Diamond levels. An innovative, effective, and strategic leader, Mr. Benson brings a disciplined, data-driven approach to the Mountainside executive team as the treatment center expands its continuum of care and continues a series of growth initiatives, including staff development, facilities renovation and new construction. As a Certified Six Sigma Blackbelt, he works rigorously and methodically with each department to implement a measurement-based strategy that focuses on process improvement and variation reduction in client treatment. Through efficient use of metrics and other quality tools, Mr. Benson ensures that the most effective evidence-based treatments and interventions are used in creating individualized client treatment plans. He is also responsible for maintaining the high quality of service for which Mountainside is known within the industry while innovating healthcare delivery services and industry best practices throughout all levels of care. Mr. Benson closely collaborates with Mountainside team members to create an exceptional experience of genuine care and partnership with all clients, their families, and health care partners.
About Mountainside Drug Rehab and Alcohol Treatment Center
Mountainside is nationally recognized for the effectiveness of its drug and alcohol addiction treatment programs. Our Integrative Care Model provides a comprehensive set of treatment and care offerings coordinated by a multidisciplinary treatment team to best fit the unique needs and interests of each client. We are lauded for our ability to partner with each client and the client's family and healthcare professionals in developing and executing individualized treatment plans that promote long-term sobriety.