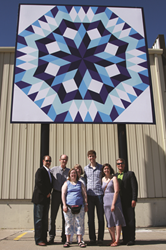 We were very pleased with the entries in this contest and were blown away by the level of talent we saw.
Omaha, Nebraska (PRWEB) June 23, 2014
The entries have been viewed, the votes have been tallied, and AccuQuilt is proud to announce that Will Bennett is the winner of the 2014 Quilt Block Design Competition. His entry, Satellite Ride, is a gorgeous tonal piece that is simply stunning.
Will says his design, "came from the idea of enclosing a traditional eight-pointed star in an angular ring. The end result is an original block inspired by lone star quilts and star bursts."
The winning block was revealed at the unveiling event on June 20. As the Grand Prize Winner, Will receives over $22,000 in prizes, including the Sweet Sixteen from Handi Quilter, a Baby Lock Aria Sewing Machine, a year supply of thread from Aurifil, and a year supply of fabric from Moda.
Will's block will also be featured in the January/February 2015 issue of Quiltmaker Magazine, as well as displayed on a 17-foot sign at AccuQuilt headquarters. The charity of his choice, Camp Courageous of Iowa, will receive a $1500 donation from AccuQuilt. His favorite guild, Jewel Box Quilt Guild, will become the proud owner of a Studio Bread and Butter Starter Set valued at over $1500.
Second place honors went to Lee J. "Quiltergirl" McCoy. Her lovely block, entitled, "Piece 'n Love" represents a broken heart being pieced back together. The charity she supports is, "Quilts of Valor" and her guild of choice is, "The Happy Stitchers Quilt Club".
Rounding out the winners in Third Place is Cheryl Sorensen with her charming block, "Grandma's Machine". Her design is quilted, pieced, appliqued, and thread-painted, and stands as an homage to quilters of our Grandparent's generation. She is supporting the, "Piper's Lake Quilt Shop" and her charity of choice is, "Kinsman Foundation – Telemiracle."
Steve Nabity, Chief Energizing Officer of AccuQuilt said, "I would like to congratulate our winners! We were very pleased with the entries in this contest and were blown away by the level of talent we saw. There were so many unique and beautiful blocks from which to choose."
AccuQuilt GO! fabric cutters, dies and accessories are available at local quilt and fabric retailers. Quilters also can purchase GO!® and Studio™ fabric cutting systems by visiting http://www.accuquilt.com or calling 888.258.7913.
About AccuQuilt, Better Cuts Make Better Quilts:
Headquartered in Omaha, Neb., AccuQuilt offers quilters, fabric crafters and retailers a premiere line of fabric cutters, dies, quilting patterns and other quilt and fabric cutting solutions that help quilters quickly and accurately cut shapes for quilting and fabric crafts. AccuQuilt also offers quilters a wide variety of rich educational resources to enhance their quilting experiences. Cutting with AccuQuilt cutters is a natural evolution of fabric cutting methods. "First scissors…then rotary…finally…AccuQuilt" for fast, easy, accurate fabric cutting. Visit http://www.accuquilt.com for more information.