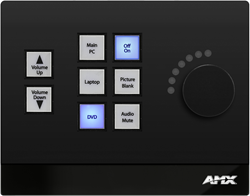 The Massio ControlPad Series meld the installation flexibility and affordability of wall/lectern mount keypads with the device and room control capabilities of a central controller.
Las Vegas, Nevada (PRWEB) June 20, 2014
At InfoComm 2014, AMX®, a HARMAN® Professional brand, brought more advanced meeting room technology to more users by debuting Massio, its newest ControlPad Series that melds the installation flexibility and affordability of wall/lectern mount keypads with the device and room control capabilities of a central controller. The result is an ideal control interface for classrooms, conference rooms, or any room where simple device and environment control is needed in an equally powerful yet easy to manage user interface.
The AMX Rapid Project Maker (RPM)-configured Massio ControlPads are available in 6-button and 8-button configurations that each feature a built-in AMX Controller to give users unrivaled power to control and automate room AV, lighting, HVAC or practically any device or system you'd like to manage. Both models are also extremely easy to navigate, utilizing simple, LED-backlit pushbuttons that glow blue to indicate activity. Massio 8-Button ControlPads also include a convenient rotary control knob with backlit level indicators to enable quick rotary adjustments of volume, lighting or other control aspects.
Available in black or white, Massio's sleek, professional-grade design was inspired by AMX Modero X® Series Touch Panels to allow them to blend in to any décor, even executive boardrooms. Integrated Power over Ethernet (PoE) connectivity simplifies installation, eliminates the need for a separate power cable and makes Massio connected devices instantly manageable.
And to ensure that Massio ControlPads are as simple to configure as they are to use, they are easily configured, right out of the box using the AMX Rapid Project Maker (RPM) cloud-based configuration tool with no programming required. With RPM, integrating a Massio ControlPad with AMX Resource Management Suite (RMS) software for monitoring and maintenance takes less than a minute.
Availability and Additional Details
AMX demonstrated its Massio 6-Button and 8-Button ControlPad models in Booth #4908 at InfoComm 2014. Both models are expected to begin shipping in the US in December 2014 and globally in May 2015. For further details, we invite you to visit these online resources:

About AMX
Founded in 1982 and acquired by HARMAN in 2014, AMX® (http://www.amx.com) is dedicated to integrating AV solutions for an IT World. AMX solves the complexity of managing technology with reliable, consistent and scalable systems comprising control and automation, system-wide switching and AV signal distribution, digital signage and technology management. AMX systems are deployed worldwide in conference rooms, homes, classrooms, network operation/command centers, hotels, entertainment venues and broadcast facilities, among others.
HARMAN (http://www.harman.com) designs, manufactures, and markets a wide range of infotainment and audio solutions for the automotive, consumer, and professional markets. It is a recognized world leader across its customer segments with premium brands including AKG®, Harman Kardon®, Infinity®, JBL®, Lexicon®, and Mark Levinson® and leading-edge connectivity, safety and audio technologies. The Company is admired by audiophiles across multiple generations and supports leading professional entertainers and the venues where they perform. More than 25 million automobiles on the road today are equipped with HARMAN audio and infotainment systems. HARMAN has a workforce of 15,200 people across the Americas, Europe, and Asia and reported sales of $5.1 billion for the last twelve months ended March 31, 2014.