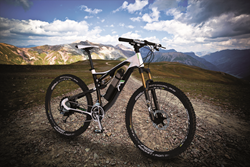 Fast pedelec, or wicked "pure" trail machine: with the Erzberg, you'll never have to choose.
Boulder, CO (PRWEB) June 22, 2014
Pete's Electric Bikes is pleased to announce that the M1 Erzberg was crowned the winner in a contest with the Haibike. The Erzberg and the Haibike are both high-end electric trail bikes; in a head-to-head contest, third party reviewers Extra Energy found the assist and feel of the Erzberg superior to that of the Haibike.
Pete's Electric Bikes is proud to be the North American retailer and distributor of M1 Electric Bicycles, and stocks several models for distribution and sale.
To view this bike, visit Pete's Electric Bikes.