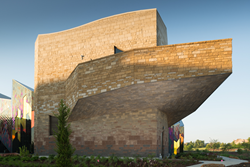 Everyone, including the client and myself, are thrilled with the way the balcony looks. It really looks exactly as I imagined it! - Project architect Jonathan Kharfen, AIA LEED Senior Associate Verner, Johnson Inc., Boston, MA
Fort Worth, Texas (PRWEB) June 25, 2014
IBP's new masonry support system, Fast Track Stone (FTS) can transform a basic building into a structure of elegance and warmth - with this time-saving installation method. This system combines the use of extruded aluminum support channels, clips and stone panels for a complete installation package.
Because FTS uses thin, lighter weight stone panels, concrete footings aren't necessary. FTS allows for non-sequential installation of stone panels thus speeding up the installation process. These features make FTS a perfect product for cladding of both new and retrofit construction as well as entries of high-end residences and interior accent walls for both residential and commercial spaces.
The Fast Track Stone pre-engineered system utilizes masonry panels in both 1-1/4" and 1-1/2" thicknesses. Stone panels are available in standard and custom sizes along with corner units that give the appearance of full-bodied stone units. IBP's sister company, Texas Quarries fabricates a range of natural limestone panels for use with FTS. Manufactured stone panels in a variety of sizes and colors are available as well.
FTS provides a simple maintenance process for replacing broken or damaged stone panels. This product is also the perfect solution for both soffit and seismic zone applications.
Fast Track Stone can help builders and architects achieve LEED objectives. Aluminum channels and clips have at least 25% post-consumer recycled content, and the entire system can be dismantled and re-purposed as the building's usage changes. Additionally, the system offers all the longevity and minimal maintenance of traditional laid in place stone.
Museum at Prairiefire
Architect of record: Verner, Johnson Inc., Boston, MA
Local architect: Rees Masilionis Turley Architecture, Kansas City, Mo.
For more information on Fast Track Stone, contact: Innovative Building Products (IBP), an Acme Brick company at 1-800-932-2263 or info(at)ibpglassblock(dot)com.