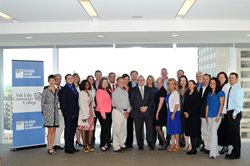 The program gave me an opportunity to work on my business in a way that I could still keep up my end of the deal.
Salt Lake City, Utah (PRWEB) June 20, 2014
Utah Lt. Governor Spencer J. Cox will be the keynote speaker June 25 at Salt Lake Community College as the Goldman Sachs 10,000 Small Business program graduates three cohorts of scholars.
Goldman Bank USA Chief Operating Officer Matt Fremont-Smith will also speak to the 88 scholarship recipients who completed the program hosted at SLCC in Salt Lake City, representing the eighth of 11 sites to have launched the education portion of the program in the U.S. The graduating scholars from cohorts II, III and IV represent industries that include services, construction, manufacturing, retail and transportation.
"Each graduate of the GS10ksb program deserves recognition for a substantial time commitment dedicated to completing a rigorous training program to help companies grow," said Karen Gunn, executive director of the Goldman Sachs 10,000 Small Business program at SLCC. "We are proud to honor 88 scholars whose lives and companies have been transformed because of their investment in themselves."
Goldman Sachs 10,000 Small Businesses is an education program for business owners who have survived the start-up phase and are poised for growth. The program started in Utah in 2012 with $10 million in capital available as loans and grants to small business owners.
The program is designed for business owners with limited resources who have a business poised for growth. Applicants must demonstrate a commitment to growing their businesses and creating jobs within their communities. Accepted participants receive a full scholarship to the program, which includes comprehensive business management education curriculum, a suite of business support services such as one-on-one business advising and networking clinics, and opportunities to access capital.
"I used to hate to go into my business. I didn't have the right people, understanding of financials, etc.," said scholarship recipient Julieta Hernandez, owner of Matrixx Massage in Salt Lake City. "This program has given me a better relationship with my business."
Graduates of the program at SLCC to date have businesses that collectively employ more than 1,500 people and individually generate average yearly revenue of almost $1.2 million each. The business owners/scholars each completed over 100 hours of intensive training in the program.
"The program gave me an opportunity to work on my business in a way that I could still keep up my end of the deal," said scholar Matt Sterbenz, owner of 4FRNT Skis. "We have turned a corner financially because of 10,000 Small Businesses."
For more information about the 10,000 Small Businesses program at SLCC, visit http://www.slcc10ksb.com.