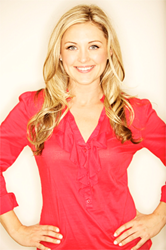 Los Angeles, CA (PRWEB) June 23, 2014
Consumers looking for projects to update the home this summer are in luck. Lifestyle and home decorating expert Kelly Edwards offers easy and powerful do-it-yourself projects that won't keep DIY enthusiasts from enjoying summer and its beautiful weather.
As seen on HGTV's "Design on a Dime," STYLE Network's "Tacky House," and author of "Design Cookbook, Recipes for a Stylish Home," Kelly is a master of design and organization. She has been featured on the "The Marie Show" on Hallmark Channel, in the pages of Cosmopolitan, Good Housekeeping, Life & Style, and Midwest Living, and deemed over the airwaves as the "MacGyver of Design," thanks to her remarkable ability to transform simple spaces into innovative interiors--even on the tightest of budgets.
Kelly Edwards highlights the top interior design trends of summer 2014 including color schemes, patterns and textiles and other home trends including a new shower head on the market, SprayShaper by Waterpik available exclusively at The Home Depot. A simple adjustment of the innovative panels allows the user to shape the spray to fit their individual needs, while delivering a power performance. Its distinctive design allows the panels to move outward for a broad full body coverage or inward for a concentrated PowerSpray. Plus, move the panels up or down to redirect the spray higher or lower on the body. Other home improvement tips from Kelly include:
· Making the most of small spaces
· How improving your bathroom and kitchen adds value to your home
· Creating the perfect indoor/outdoor space
· How to bring life to your old wooden deck
· Going green with a DIY mobile garden
Media can download broadcast and web quality video and photos at http://www.magicbulletmedia.com/MNR/sprayshaper
About Kelly Edwards:
Kelly Edwards is best known from her role as the co-host and design coordinator for HGTV's "Design on a Dime" as well as STYLE Network's "Tacky House".
In addition to being seen on television, the celebrity designer has been offering dwellers with decorating dilemmas, distinctive design tips, bargain-decorating projects, and total home makeover transformations inspired by personal style and popular trends on the web and in print. Kelly is well known for her knack in re-purposing everyday items into extraordinary collectibles, refurbishing unique home accessories, and crafting recipes for creative cleaning solutions. Most recently Kelly has been seen on "The Marie Show" on Hallmark Channel, in the pages of national magazines such as Cosmopolitan, Good Housekeeping, Life & Style and Midwest Living, Rachel Ray and deemed over the airwaves as the MacGyver of Design, thanks to her amazing ability to turn a simple space into an innovative interior with only a $1,000 budget. Not just another designing diva, this former teen beauty queen is also a do-it-yourself darling with passion for all things self-created from fabrics to fashions to foods. The Chicago native has contributed to regular lifestyle segments on WLS-TV ABC Chicago Channel 7, appeared in Infomercials for Oreck and Circuit and makes appearances at home improvement and design trade shows nationwide. Most recently her book "Design Cookbook: Recipes for a Stylish Home" was on Amazons best seller list.
About Water Pik, Inc.:
Water Pik is a leading developer, manufacturer and marketer of innovative personal healthcare products sold under the Waterpik® brand name. The Company has developed and introduced many products that are considered the first of their kind and have led to the formation of new markets, including the pulsating shower massage. Waterpik® shower heads are sold through a variety of channels, including mass-merchandisers, DIY and specialty retailers. Headquartered in Fort Collins, CO, the Company operates facilities in the United States, Canada and the United Kingdom. For more information, visit the Water Pik, Inc. Web site at http://www.waterpik.com.